Friday, October 30, 2009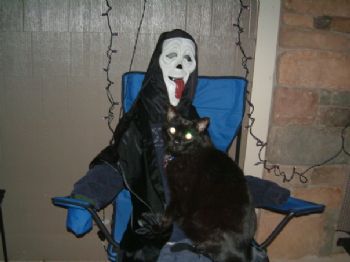 On Sunday, October 25th, my beloved cat Blackie, 16 and a half years old, passed away. He was killed by a neighbor's dog when he wandered into their backyard. I will always grieve and miss Blackie, who was my friend and family member since I was 7 years old. I know he is happily enjoying himself in the afterlife, but I believe his spirit will always stay with me.
I am dedicating my healthly lifestyle to Blackie, which may sound silly to some of you, but Blackie would understand. Blackie loved to eat, but due to health issues he stayed very skinny in recent months in spite of eating as much as he could lay his paws on. I like to picture him happily chomping away on fresh meat while he roots me on as I eat what he would call rabbit food.
I took this Halloween photo of him a few years ago, and am posting it in his honor on the day before his traditional black-cat holiday, Halloween. I credit all my current and future weight loss and healthy lifestyle changes to him, because he will always remain in my heart and thoughts as I continue this life without him.
Happy Halloween to all, and to those of you with cats, please give them an extra treat in honor of Blackie.