Thursday, October 29, 2009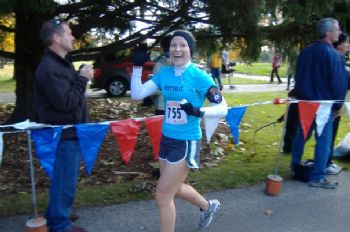 my 10k last sunday went even better than expected. i had been training for a 52ish minute time, but wanted and knew i could be 50min or less. i ended up with a 48:36 official time (7:50/mi/avg). WOOOHOOOOOO! who knew, i am kinda fast!!!
my mom snapped a pic as i finished. pretty serious runner's high following :)
so with my adjusted 10k time, i did a speedwork training run today from the runnersworld.com smartcoach trainer, and gotta say--that's what i'm talkin bout! did 3x800m in 3:37 and really felt like a good workout. my 5k goal time for turkey trottin is 23:03. gonna focus on increasing speed for a while.