My favorite quote of Ben Stein's (and there are many) is this:
"The indispensable first step to getting the things you want out of life is this: DECIDE WHAT YOU WANT."
I've been thinking of this for a long time now. I originally cut it out of a magazine many years ago and hung it up on my fridge. There's a little picture of Ben Stein's face beside it too, which is what made me notice it in the first place. We used to watch his game show, "Win Ben Stein's Money", and enjoyed his dry humor. When I saw the picture and read the quote in the magazine, I was drawn to keeping it.
I've been doing some thinking this week about goals, and taking steps to getting to where I want to go. This quote keeps coming into my head. If I want to get somewhere, I need to know where / when / what / who / why. Otherwise, I'm just taking shots in the dark.
This week I completed my first ever "Vision Collage". It's one of the steps in the Spark Stages, but in the three and a half years since I've been sparking, it's a step I'd never completed. But seeing the pictures and words - having that image to look at and burn into my brain . . . well, a vision collage really is helping me. I can gaze on it (it's currently my computer's wallpaper) and remember what I'm doing this all for. It's actually an amazing thing, and I wish I'd done it sooner.
Yesterday morning, I was thinking about how cold it was in the basement, and how I didn't really want to get out of bed to go do strength training, but how I *had* to cause it was on my steps. Then as I started getting clearer, I remembered what my goal was (the Hypo Thermic Half Marathon in February), and all of a sudden, doing the strength training became something that would help me to achieve my goal. No longer was it a "have to do" kind of thing. When I looked at is as taking steps toward a larger goal, it was much easier to get out of bed.
I just need to make that decision about what I really want out of life, and then take the steps to get me there. It really is that simple.
Have you decided what you want?
Do you know what steps you need to take to get there?
Do you think you could complete a vision collage this weekend?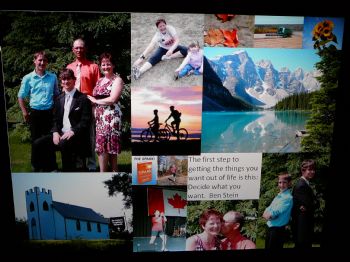 I actually did mine as a power point slide, so I had to take a picture of it to show you. The photo of the power point isn't that great, but you can get the idea. Notice the Ben Stein quote stuck in there!