Sunday, October 04, 2009
We never ever ever go out... we did go out a few months ago to a movie (DH got free passes) It was the FIRST time in more than 4 yrs that we went out alone with no kids - but DH said "I think you spent most the time texting on your phone than watching the movie" There was a problem at home - the baby wouldn't stop crying... the older kids were watching the younger ones - I had a friend go over and help out - the problem? The baby was poopy and older DD didn't realize - hence why the baby wouldn't stop crying. When my friend got here, she changed him and all was fine after that....
Tonight we're going bowling - just DH and I. But we're not leaving for another 45 minutes - and the 2 little ones will be asleep before we leave (baby already asleep for the night - Ali playing in her bed right now) Once she's sound asleep we'll leave.
The older kids will be home doing their usual laptop time... I have a friend/neighbor on call for emergency... although with the little ones asleep before we leave, all should be fine.
I never wear makeup (oh maybe at most twice a year) I was about to put on some makeup and get pretty for DH - when he say my makeup kit out he said "what are you doing? We're just going bowling" LOL I told him I was gonna get pretty - he said I was fine and don't worry about it. So no makeup for me! :)
I do regret having pizza (homemade - all from scratch - crust made in the breadmaker - yummy) as my shirt is now feeling a bit tight. *sigh* I wore this shirt to Church this morning and felt great - but now after having pizza, I feel bloated. Again DH said I look great. LOL Men!!
This is the shirt I'm wearing - you see its a bit skin tight - and shows that pizza bloated belly I'm currently sporting... I also have on my new jeans that I bought last month (a size 1) Which I wished I had a belt for as they are a bit big on me: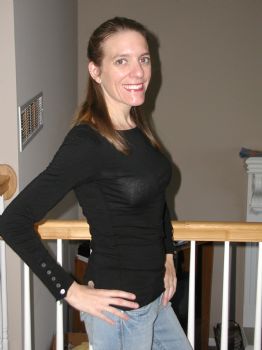 Looking forward to a night with just dh and I... we have 50 free bowling games that have to be used up before Dec 17th... so we'll play until we're tired of playing LOL May be one hour, maybe up to 3... bowling alley closes at 11pm - we'll see how many games we get in before we're done LOL
btw, this picture was taken Nov 2008 - wearing my size 5 jeans.