I ran in the Reach the Beach relay this past weekend. As you can tell from my previous blog entry, last week was not a stellar week for me. I was really hoping that getting away for a weekend and having fun with a great group of women would snap me out of it. And it did - I had SO much fun!
We met on Thursday, rented 2 vans, and went to one teammate's house for dinner. I met most of the 11 other women then for the first time, and it's always nerve wracking wondering if you're going to fit in. We all seemed to get along well though, and after dinner we loaded into the vans and drove up to NH to the condo we rented.
I was so nervous that I was going to be the slowest person on the team and drag our time down. I've been bothered by a hip flexor injury, but I thought that me at not 100% would still be better than my teammates having to pick up my extra miles. So I barely slept on Thursday night, and we got up bright and early on Friday to decorate the vans, and drive to the start.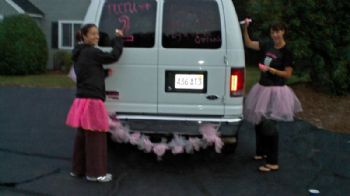 We arrived in our pink wigs and tutus, and it was like rock stars had just walked in. It was crazy - I've never experienced anything like it. Everyone wanted to have their picture taken with us (or just of us) and everyone was staring and pointing. I knew the team had a reputation (people either love us or hate us), but I didn't realize the extent of it. It was really fun.
We were in a pretty early wave with an 8:40 start time. We got to have the honor of counting down the 10 seconds to the gun (I got to hold the mic!).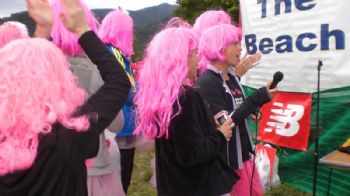 Our first runner went off, and we hopped in the vans to go support her on the course. This continued for the next 9 runners until it was FINALLY my turn 8 hours later. It was a 7.5 mile leg, with two nasty hills in the middle. I took off way too fast (too much time spent waiting around in the van) and was a little spent on the hills. I had to walk twice, but was actually surprised at how strong I felt. 7.3 miles at 9:05 pace
Our van stayed awake (mostly) and supported our runners through the night, while the other van went to the camp site to sleep. My second leg was at 4:10 AM! The last two miles I was completely alone out there. That's when you start to realize how vulnerable you are. Maybe that's why I ended up getting an 8 minute PR!! 6.2 miles at 8:45 pace
We then went to the tent and grabbed 2 hours of sleep. When I woke up, I stumbled up to the portajohn, and ran into the teams of 3 of my friends. That was really cool to run into people I knew (from both running clubs) where you don't usually see them.
We caught up with the other van, got some breakfast, where I ran into one of my teammates from the triathlon team (total surprise, didn't know he was running!). Finally it was time for my third leg. I was a little concerned because I was really sore and hurting by this point. But it was only 3.4 miles, so I thought I could just hold on til the end. It was all mental at this point, and I think I did great - 3.4 miles at 8:35 pace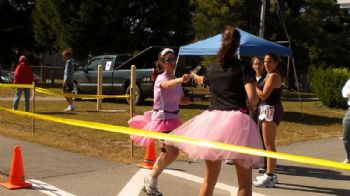 I passed off to my teammate, who was running the final 4 miles to the beach. We gave her water halfway, then drove on ahead to wait for her at the finish. We made two lines for her to run through, then followed her in to the finish. We Reached The Beach! 200 miles in 31 hours. Awesome! Oh, and we finished 2nd in the Women's Open category!!