You'll probably be able to find lots of information about the flu, but here is some more of it. Most of the information if from the CDC (Center for Disease Control) : site
www.cdc.gov/h1n1flu/
The (notes) are from me.
How do I know if I have the flu?
You may have the flu if you have some or all of these symptoms:
fever *
cough
sore throat
runny or stuffy nose
body aches
headache
chills
fatigue
sometimes diarrhea and vomiting
*Itís important to note that not everyone with flu will have a fever.
What You Can Do to Stay Healthy
Stay informed. This CDC website will be updated regularly as information becomes available.
Influenza is thought to spread mainly person-to-person through coughing or sneezing of infected people.
Take these everyday steps to protect your health:
Cover your nose and mouth with a tissue when you cough or sneeze. Throw the tissue in the trash after you use it. (Note: they are teaching the kids to "do Dracula" - cough or sneeze into your bent elbow instead of onto your hands if you don't have tissues. Listen to Elmo!)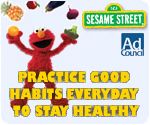 Wash your hands often with soap and water. If soap and water are not available, use an alcohol-based hand rub.
Avoid touching your eyes, nose or mouth. Germs spread this way. (Note: consider switching to glasses instead of contacts if the flu gets in your area. I can't stop touching my eyes when I'm wearing contacts.)
Try to avoid close contact with sick people.
If you are sick with flu-like illness, CDC recommends that you stay home for at least 24 hours after your fever is gone except to get medical care or for other necessities. (Your fever should be gone without the use of a fever-reducing medicine.) Keep away from others as much as possible to keep from making others sick.
Other important actions that you can take are:
Follow public health advice regarding school closures, avoiding crowds and other social distancing measures.
Be prepared in case you get sick and need to stay home for a week or so; a supply of over-the-counter medicines, alcohol-based hand rubs, tissues and other related items might could be useful and help avoid the need to make trips out in public while you are sick and contagious. (Note: lay in a supply of easy to eat foods - juices, Sports drinks, crackers, soups, etc that 1) you can eat while ill, 2) store well, and 3) won't totally blow your diet - no, not a 24 pack of Little Debby cakes!)
If I have a family member at home who is sick with 2009 H1N1 flu, should I go to work?
Employees who are well but who have an ill family member at home with 2009 H1N1 flu can go to work as usual. These employees should monitor their health every day, and take everyday precautions including washing their hands often with soap and water, especially after they cough or sneeze. Alcohol-based hand cleaners are also effective. If they become ill, they should notify their supervisor and stay home. Employees who have an underlying medical condition or who are pregnant should call their health care provider for advice, because they might need to receive influenza antiviral drugs to prevent illness.
In children, emergency warning signs that need urgent medical attention include:
Fast breathing or trouble breathing
Bluish or gray skin color
Not drinking enough fluids
Severe or persistent vomiting
Not waking up or not interacting
Being so irritable that the child does not want to be held
Flu-like symptoms improve but then return with fever and worse cough
In adults, emergency warning signs that need urgent medical attention include:
Difficulty breathing or shortness of breath
Pain or pressure in the chest or abdomen
Sudden dizziness
Confusion
Severe or persistent vomiting
Flu-like symptoms improve but then return with fever and worse cough