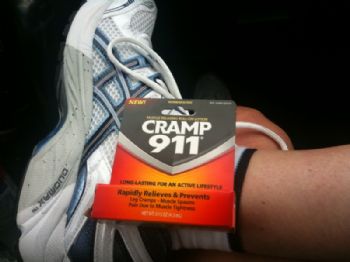 I just read a dailySpark article by Coach Nicole on the topic of wearing the wrong workout shoe, and talk about kismet and timing!
I was actually fitted for a shoe for the first time since I was a wee thing at The Diamond Department Store where my mom used to work.
After experiencing excruciating pain in my calves this past Wednesday on attempting my first C25K with my hubby, E (who is on week 2) realized that running in my basic Asics was not a good plan. He suggested we go to Emmaus, PA to what turned out to be an excellent specialty running shoe store. (it's where he got his new running shoes a coupla weeks ago, and was uber impressed with their customer service, and E is NOT an easy one to please in this department at times ;~)
I was AMAZED at the service as well as the differential in my typical shoe size (8-8.5). Imagine my shock when I measured a 10AA!

There were three choices in my size and the first pair I tried on were by far the best. I was blown away when the salesperson told me to run down the street to see how each pair felt.
Ma & Pa local stores still do exist! They also have a liberal return policy, and I feel much better frequenting a brick and mortar store front, than my usual on-line shopping tendency.
I ended up with the Asics GT-2140.
Courtesy of E


Not my aesthetic cup of tea, but OH HOW much better they felt when we went straight to the park to do the C25K Week 2 again.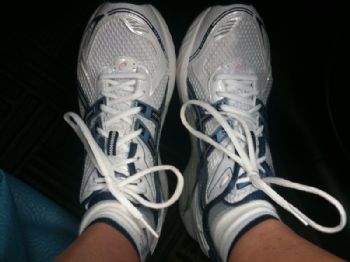 I finished this time!
Granted it wasn't pretty, and I still cramped/locked up, but it was lower in my calves this time (just under where I applied the 911 holistic cramp gel) and lungs felt some good burn as well.
And BIZEEMOMTO3, we went to Target today, after the run and acquired some magnesium supplements.

I know I am being a bit profusely wordy, but i just want to tie-in an SP Healthy Reflections email from today...
"The Best Inspiration is not to Outdo Others, but to Outdo Ourselves."
*No one likes to lose. The thrill of victory after competition is hard to match. But the wins that leave the most significant, long-term impressions are the ones where you win against yourself. Beating a friend in a game of hoops is much less meaningful than setting a personal best time while running. We live in a highly competitive world, and everything around us screams that we've got to be number one in order to feel successful. Truly though, the best measuring sticks are your past and your potential--not against someone else's standards. Raise the bar for yourself!*
Thank you E, and ALL my Sparked Friends for the Sparked boomerangs