You know how I was all excited about joining a gym and having access to the group exercise classes? Well, it hasn't gone quite as planned

I printed out the class schedule and highlighed all of the classes I planned on taking this week, starting with BodyPump on Monday. I was really excited and got to class early. I put 3lbs of weights on the bar, figuring I would take it easy. After the warmup, the instructor said "Let's amp it up, this isn't your normal BodyPump class... this is bootcamp!" I mean really, WTH? Why wasn't there a sign or something warning me???
Of course, me being me, I didn't just walk out of the class like a sane person would have. A little voice in my head kept saying "they're not going to make me quit, I'm not a quitter". And I wasn't a quitter because I finished the whole hour. I even felt good enough to do the Zumba class that started right after and went home feeling quite proud of myself.
The next morning was pretty uneventful and I packed my gym bag so that I could go to Step class after work. Well, after going up and down the stairs at work a few times I was in agony!!! My hamstrings were so sore and tight that it hurt to bend my leg. And my triceps started hurting later that day. Ever since then I've been walking like Frankenstein, taking longer than my 86-year old great-grandfather to get up out of chairs, and wishing it wasn't totally unsanitary to keep wearing the same shirt every day. Oh, and I probably would have lost my job yestrday because my co-worker squeezed the back of my arm. I would have punched him, but it would have hurt too much so I'm still employed lol.
For those of you who haven't heard of it, this stuff is amazing!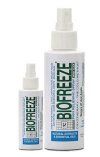 I am so thankful that my friends told me about it because Icy/Hot and ibuprofen weren't working for me. Within a couple of minutes of putting this stuff on I have full range of motion. And it lasts for a couple of hours

Anyways, I'm hoping to be able to go to Step class on Saturday morning, but I'm not too sure it's going to happen. I haven't felt any pain today so far, just a lot of tightness so hopefully that's a sign of progress???