Tuesday, August 25, 2009
OK, so we were supposed to log our hours for cleaning. in typical Artist fashion, I became consumed by this and I'm just seeing the light from the end of the tunnel! What I have done (with Clark's help of course) All the stuff that we dumped in our basement after Clark's dad Died (3 years ago) took over the basement and neither of us wanted to go downstairs and deal with it much less look at it.. SO with this challenge we finally cleared out the downstairs living room, my Studio and the bar area. Which ended up being a good thing because our basement flooded again and now we had it so you can walk thru it.
What I've done so far:
I painted the entire downstairs, Bathroom, Bar, family room, studio and hall.
we took 10 car loads to the salvation army, recycled a trunk full of old papers,
Built a super cool desk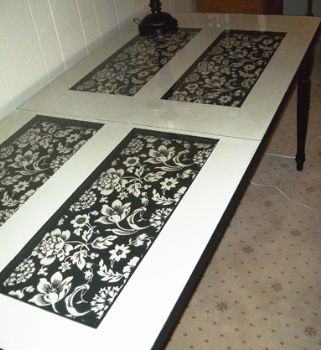 What I still want to accomplish:
Paint the front of the house and Garage doors
Replace the wood banister outside with metal one
sand and stain inside banister to finally finish it!
Then of course there is all the rest that needs to be done
(I'm not ready to even think about the rest yet!)