Gauging Success . . . .
Friday, July 31, 2009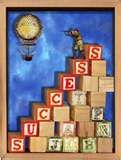 I was just wondering how other Sparkpeople in my communities gauge their success with their healthier lifestyle? I have to admit I can't gauge my success by the numbers on the scale although that is how we define ourselves some times. We don't do it on purpose, that's just how our minds work. We see we can fit a size 2-4-6 & feel we have successfully won the weight loss battle only to find out, its just the beginning. So now you have maintain that weight without gaining it all back & more. I believe that is why I stopped weigh myself? I would get so distraught & reach for my favorite carb food red vines or go to Wendy's. Please let me know how you gauge success, please?
Thanks & Blessings!



Dee