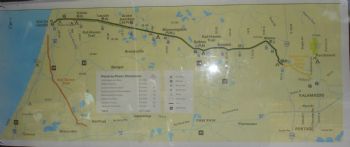 Above is the map of the Kal-Haven Trail. I added approximately another 10 miles to the 34 mile route by biking from my son's apartment, where we're staying, across town to the trail's beginning. I always have a twinge of conscience whenever I load my bike up to DRIVE someplace to BIKE: biking is all about reclaiming one's ability to MOVE and transport by virtue of one's own personal body power...no carbon footprint necessary!
Here is the start of the trail: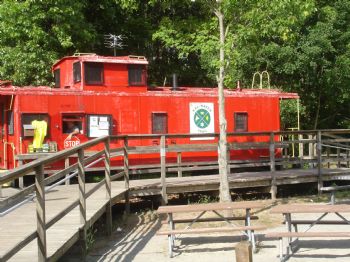 I ran into a couple pairs of Nordic walkers coming off the trail as I was preparing to depart. Unfortunately hadn't seen them in action, as I am interested to know more and perhaps try this myself sometime. I chatted a bit with them and they were all a-glow with their workout, speaking quite highly of this approach to walking.
My exact mileage isn't quite known because the SparkPeople Fitness Maps feature doesn't include the cross-Kalamazoo bike trail NOR the Kal-Haven bike trail. However the Kal-Haven has mile markers and is known to be 34 miles long extending from Kalamazoo to South Haven.
Here's a typical view on the trail: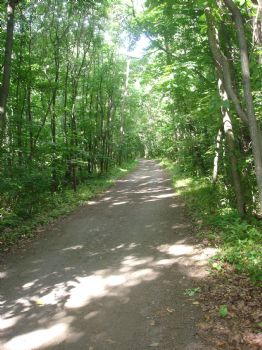 It was not as *scenic* a ride as I had hoped in that much of the trail was covered with a canopy of trees and only here and there did it break out into what I refer to as the "Great Wide Open" (always think of Tom Petty's song when I ride in this terrain!) of corn fields or other crops stretching out to the horizon.
My son unfortunately wasn't up to joining me on my trek, but I wasn't going to allow this to prevent me from "keeping my appointed duty"...lol!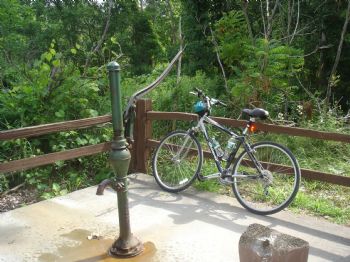 It was nice to see some old-fashioned well-water pumps along the way. I tried them and they WORKED! The water was cold and delicious!
The trail routed through Small Town America...first town was Gobles: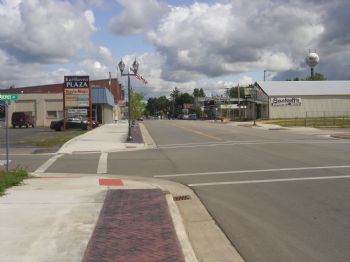 And at the mid-way point was Bloomingdale (NOT of department store fame! lol):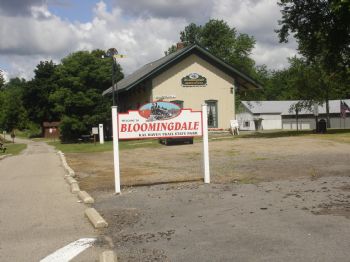 These were such small spots-in-the-road locales!
I and this other older fellow kept playing piggy-back along the way...I'd pass him by while he was taking a break and he'd pass me by while I was either stretching or taking pictures. I tried to strike up conversation, but he was more focused, I suspect, on "getting 'er DONE!" :-)
Nearing the end of the trail was a quaint covered bridge: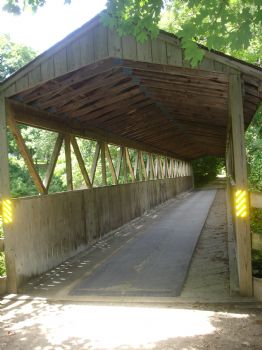 Also a nice network of wooden planks connecting with a cupola out in the marsh: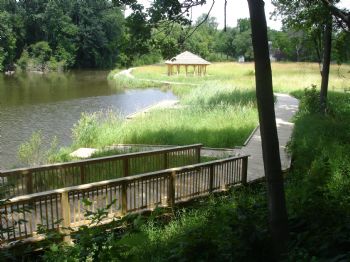 And at LAST! Trail's END!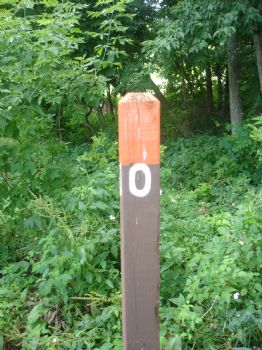 And right across from this was a stupendous mansion on the South Haven harbor with schooners parked in front: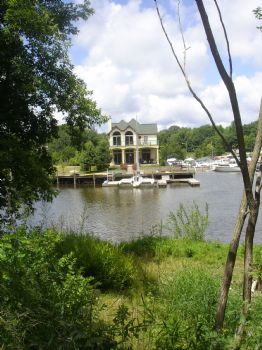 Afterwards my son and DW picked me up in South Haven and I had a little scare: My bike wouldn't FIT in the minivan!
But my son came to the rescue: took the front wheel off...! Here I was getting ready to bike back to Kalamazoo...! A mixture of "Drat!" and "Whew!" :-)
We then headed to the Lake MI shore to catch the sights!
Hope everyone's having a SPARKING summer out there! :-)
Don