Saturday, July 18, 2009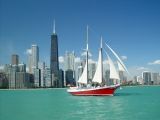 So I go to the lake front here in Chicago occasionally but I want to rent a boat for the day with my family. Now do I know anything about boats or can I even swim? Absolutely not & I have a big fear of water that I can not stand up in

but now that I getting myself together I can be somewhat adventurous?! I am still trying to eat shrimp?!



My husband is a excellent & beautiful swimmer but do I count on him to be able to save us all in event the boat sinks?


Decisions - Decisions.
I just wanna be able to have some fun!
Blessings,
Dee