Saturday, July 18, 2009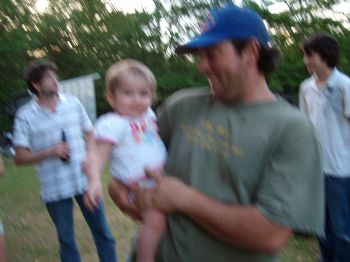 I'm not sure how it happened nor can I pinpoint the exact moment it returned but we have had a case of "No time". I know you all know what I am saying, like everything is going along smooth and then everything goes crazy. You don't have time, everyone wants you to do stuff and your list goes up in smoke. I really can't complain, millions are wishing they had this problem, I was beginning to get that defeated feeling, like nothing is gonna be enough and that somewhere in all the economy cuts, who cut the hours in a day, Heheheh. I just feel like I'm running around like a chicken with my head cut off, most of the time. Add to all that hubby and daughter had a spat yesterday. She feels like she and daddy don't spend enough time together goofing off. He has been working six days a week and she has been gone. So I sat them down last night and instituted "FAMILY DAY". We did this before when she lived with us because it was always her friends over or her over there. We felt left out- now she feels left out cause daddy works so much and when he is home he is usually sleeping or on computer. So starting this next week we will have one day, we figure Sunday is best day for it, to make no plans outside the family. We will spend one day a week together, doing something fun, affordable, and mostly it is for the time together. This also will insure that Nomi gets a little down time and time to just goof off together. If we don't do anything but go to the beach, it is basically free, only a few gallons of gas and loads of cardio. I told them both that it is a crying shame when a family is lucky enough to live in an area with so much to do and not do any of it. We are after all trying to teach Kaelin that work is important but not "ALL IMPORTANT". There Must be Balance! A concept that came to me thanks to Sparkpeople. Through this site and all the articles I have read it is one of the most important aspects to an active and fit life. There must be balance between diet and exercise and between work and play. We have been so worried with the economy like it is that we have let work consume us. She isn't neglected or anything we all (her too) just got caught up in the work thing and her with her friends and sleepover thing. We all agreed that at least one day a week would contain NO WORK and ALL PLAY! The house hunt has been stalled around here as well and we only have a month before she starts school again. I would like to be moved by then so she won't have to change schools. We are not zoned here for the school I wish her to attend. They are pretty strict on the zones here and the school they pre registered her for is not on my list. The one I do want her to go to is newer, building, textbooks, and have most of her friends attending. It is hard enough to go from being one of the big fish in the middle school pond to being a tadpole in the High School Pond. Friends can make it a little easier to deal with and I of course want her to have that advantage. I remember high school as one of those awkward times when everything changes. I guess I better step up my search and saving.
Hubby had to work today to make up for his sick day this week. Kaelin got invited by her best bud Katie to go to Mexico Beach this weekend and stay over last night and tonight. I am home alone, Hmmmm now what do I do with this entire day I have to play with, think I hear a walk coming, after I get a little landry done and mop the house. I've been keeping it picked up this week so a nice dusting and a few loads of laundry and I'm good. My oldest son, Bobbi-Sue's hubby had back surgery yesterday. He is in quite a bit of pain but has meds to help cope. Hopefully it will get that taken care of so he can return to his job. He has been out since around March and is going nuts not being able to work, or much of anything else. He is home already with orders to not even ride in a vehicle for two weeks. In fact the orders read that only light walking is allowed for a week. They made a small incision in his lower back and trimmed off the protruding portion of the disc. I could not believe he rode in a car for an hour to get to Dothan Alabama for the surgery and was home in his living room at 3:30 in the afternoon. No overnight stay in hospital or anything. Get you in and out. Wow!! Workman's comp paid for everything, even provided a driver and vehicle to take him and her and bring them back. My youngest son Chris(with the pregnant girlfriend) lives in Alabama now and his tooth started hurting Thursday. By Friday early morning it was so painful he had to have an emergency extraction. So right now his girl says he looks like a chipmunk. What is the old saying "When it rains, it pours""?

I have been following the list as much as possible from the blog on Finding Joy from last week. I am smiling at everyone I make eye contact with and it really makes the day go by smoother. I am thanking God every morning for another day and that we have been getting the opportunity to work more lately. I know I haven't been on much lately but I promise you all that I am still here and still working it. I may not have the time to continue to check in all day but you are all in my thoughts. Here is a little something to make you smile today,