Been kind of mediocre with the activity this week. I'm a little disappointed in myself.

Work has been very busy- boss is having me proofread and write some time sensitive stuff, particularly today. It's good that he trusts me to do this for him, but I'm not taking enough stretch/activity breaks.
Fortunately, I'm only working a half day tomorrow, and I hope to make up for my inactivity in the afternoon.
I'm thinking that I should find a class to take- either at my gym or somewhere else - I need to shake up the routine.
Today was a farmers' market day- I got some basil, cherries, tomatoes, broccoli, and garlic scapes. I made two pestos tonight- one with the scapes, olive oil, and Parmesan; and then a more traditional Genovese with the basil. We had pasta with the latter tonight, and it was delicious!!
What are garlic scapes? They seem to be a farmers' market/CSA staple. They look like this: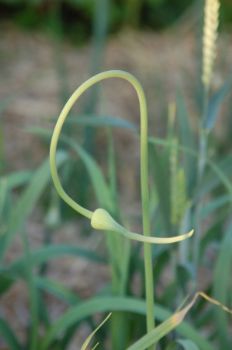 Basically, they are the stems that come up from the planted garlic bulb. They taste garlicky, but not as strong as the bulb is.
Even though I have been kind of a slug, I do feel like I am making progress. I feel different, and more clothes are bagging off of me!
We went to the new Savers (
www.savers.com
) last night- we'd never been before! It was fun! I found a bioimpedance device- the kind that you grip with both hands- for $3.99. I didn't buy it, but I tried it a few times and its results weren't wildly variant- body fat was around 34-35%. I can deal with that- last time I was tested by the dietician, I was around 38%. Maybe I will go back this weekend and see if it is still there... and look for cheap clothes while I'm at it.