Monday, June 15, 2009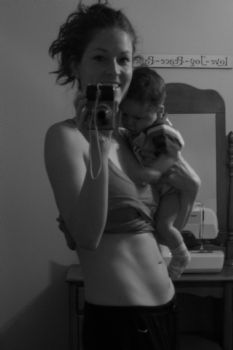 Hey Everyone! Well it's been a fun ride so far... Little Owen has brought so much joy to our lives!
The first two weeks were a little bumpy; you know how it is with your first child- you want to do everything perfect and by the book, but you can't. These little guys have minds and personalities of their own. Owen does not like to sleep during the day, but we are blessed because he does sleep during the night. The only bad thing is that I can't get anything done during the day and he is such a people person; he does not like to be alone.
Anyway, Owen is doing great and he is growing like a weed... I can't believe how much he's changed already. We are going to the Dr. Wednesday to weigh him again and I am sure he's over 10 lbs now because two weeks ago he was 9 lbs 13 oz. That's crazy to me! He loves his milk! Oh and he is nursing wonderfully! I will be posting more pictures soon.
As for me... Well I am doing great! Although I am still a little sore from the episiotomy, and I did get mastitis and my nipples are just now starting to get used to nursing. Other than that things have been wonderful. I only have 4 lbs to go and I am back to my pre-prego weight. I can't believe how fast you can lose your weight if you breast feed. My stomach was almost completely gone after two weeks. And it pays to be in good shape before pregnancy too. So all you ladies considering to have a baby, work hard now because IT WILL PAY OFF in the END; I PROMISE! I haven't even been back to the gym since I had Owen, so that says a lot. You will be so happy with the results if you make the decision to kick it in high gear now. I feel so blessed!
If you need any pointers or need some advice, I would love to help!
~Caroline