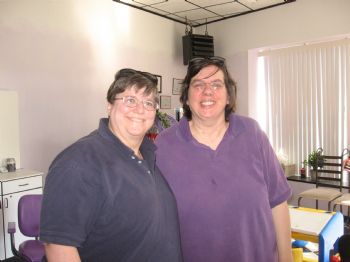 We started out only going to get a license, in one of the three states that would make us legal.
We had to take a witness with us who knew us, she was running late, so I was having anxiety attack on the way there over being so late. Then half way there, she discovers she is missing her ID.
We finally get to Iowa. It is 4 pm they stop issuing licenses at 4:15pm. We still have the problem of our witness having no ID.
We sit explain our situation. LUCKILY our witness is a Pampered Chef rep and has a Business website ,,, (yep that is a plug, spark mail me and I'll give you the link she can drop ship to ya) ,,, so the one site has her name address and picture on it. Since it is a business the and she was the witness and not getting married they took it. BIG SIGH OF RELIEF!! Since we all looked on the verge of tears. Except Action JJ who was someone gave a tootsie pop!!! (which lead to HYPER ACTION JJ)
Then we explain my pain issue with the drive, my loves problem with scheduling days off during the week and we got a waiver for the 3 day wait! Thank you HP. We'd called a Reverend who had agreed to perform the marriage she just had it around her business. Well since we got there so late she couldn't leave her business.
SOOOoo glad I'm already planning a wedding ceremony for October or I would have cried over the whole thing. We ended up getting married in Rev. S's Beauty shop. Sweaty, just come in out of the heat, with sunglasses still on my head, with a dandelion JJ handed me, a second witness on hand, and we were married.
We got back home after midnight.
I woke up the next morning to rain, sunshine, a rainbow and happy.