Monday, May 18, 2009
This is my first bento ever, I'm not sure I'm doing it right, and now sure where to go from here for tomorrow. I made some more hard boiled eggs for another day I suppose. Normally I just eat Peanut butter and Jelly's every day!
Any ideas or help would be great! I'm kinda pick and not very creative when it comes to food (which is why i eat PBJ always).
(picture behind the link)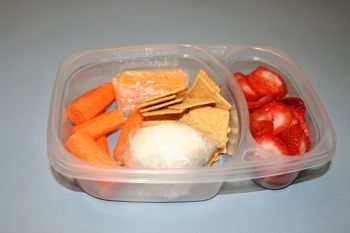 From Left to right: 2 Normal sized carrots cut, Cheddar Cheese Slices, Hard Boiled Egg, Wheat Thins, and Strawberries