Sandi is the biggest baby of them all. She is a mixed breed dog that we got from Animal Control when she was 5 weeks old. She has been our "baby" for most of her life. She is now 9 years old and just as spoiled as when we brought her home. Sandi is what would probably be referred to as a medium to large dog (she weighs about 45-50 lbs). She has very long legs, her coloring is black, tan and white. She is mostly black with tan legs and tan on her face. She has white on her chest and tail.
You may wonder if Sandi is a long hair dog or short hair dog? The is a good question and I would have to say both. She has short hair on her head, and sides, but she has a mane of medium length hair running down her back. Her tail has long hair with little tips of white on the ends. Sounds like a strange combination, but put it together and she is one beautiful baby. Sandi does not like other people very much. That is probably our fault for not socializing her more when she was younger. Usually, when we have guests, she spends the entire time barking at them until they leave. Needless to say we don't have very many guests to our house or we make sure Sandi is otherwise occupied while they are there.
Sandi has her set routine and my DH and I each have our jobs to do. My DH takes care of most of the feeding and walking duties as he works nights and is home during the day to take her for walks. I am in charge of playtime, nightly outings and making sure her collar is not choking her. She wears a regular collar and a flea collar and I check them every night to make sure that they are not wrapped around each other too much as to make them too tight.
Food - When we first brought Sandi home, we tried every kind of food imaginable. We tried Purina, IAMs, Gravy Train. You name it we tried it, but to this day the only dog food she will is Moist and Meaty. She will sometimes eat the Ol Roy, Walmart brand of the same type of product, but she will not eat any other kind of dog food. So, since we don't want her to starve, Moist and Meaty is what she gets.
Play time - When outside and loose in the yard or at a dog park, Sandi's favorite pastime is fetch with a tennis ball. My DH will throw the ball (and he can throw pretty far) and she will run and get it and bring it back. You can tell when she is starting to get tired as eventually my DH is the one chasing after the ball and bringing it back. When inside, she chases her stuffed squeaky toys. She has a large cloth bone that she will bring over to be thrown for her. She will come over and "toss" it at us to try to get us to throw it. Other times, she will toss it in the air herself and catch it and then shake it around in her mouth. Every time we bring a bag into the house, she is sure it is another toy for her. Sandi has also designated herself the cat police. Every time one of our cats starts to claw on a chair or do something they are not supposed to, she is right there chasing them away.
Bones - Sandi loves biscuits and bones. Her favorite kind is the ones that come in a variety of flavors. She will not eat the generic biscuits with no flavoring. I don't know if the flavored ones actually taste different, or maybe she likes the different colors, but that is generally, with few exceptions, the only kind she will eat. Biscuit and bone eating also involves a ritual. If we put a handful of biscuits down for her on the floor, she will lay down next to or almost on top of them and "guard" them from any and every feline within a 100 mile radius. If one of the cats so much as walks across the other side of the room from her, she will chase them off. She doesn't actually eat any of the bones during this ritual. The only way I have found to get her to actually eat the bones is to go over and pretend to try to take it from her. I usually just tug on it gently while she has it in her mouth and say "I'm going to get it, you better eat it". That usually does the trick and she will eat them.
Bedtime and Kissies - Sandi likes to sleep on my DH's side of the bed. She will lay up against his legs for at least part of the night or until it gets too hot for her and she has to move to the bathroom floor where it is cooler. She also likes to give "kisses". If I say, "go give Daddy some kissies", she will go over and start licking my DH in the face. She doesn't usually give me face kissies as she knows I am not too fond of face kisses, so I get hugs and snuggles and her butt. If my DH says, go see Mom, she will come over and either put her head on my shoulder and lean against my head, or come up behind my while I am sitting and nuzzle her head up under my arm and wait for attention. She will also come over and turn around, so I can scratch her back.
We definitely have our set routines with Sandi and she knows how to wrap us around her not so little paw.
Sandi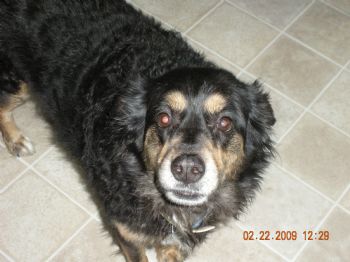 Resting in the Chair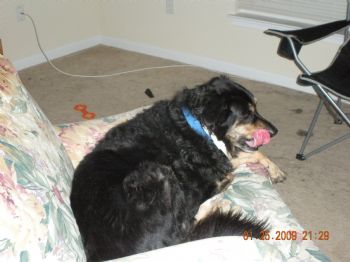 With her favorite toy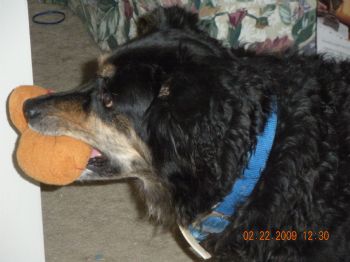 Sleeping on the sofa