Xristox Anesti!
Monday, April 20, 2009
Alithos Anesti!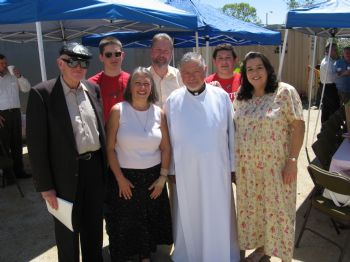 I am filled with joy today, as Holy Week is over. The midnight Pascha service is over, and our picnic is cleaned-up. I'm ready for this new time in my life. I anticipate it with joy.
In the picture, on the far left is Dr. Nicholas Itsines, the Greek master psalti who is my teacher and mentor. Continuing in the back row: my youngest son, Ian (17); husband Christopher, and Christopher Constantinou (17). In the front row, me, Father Costas Constantinou, and Prebytera Eugenia Constantinou.
We had a blessed Holy Week and Pascha together, chanting, worshiping, and being spiritually renewed. Praise God!