"hi Tamara,
I got a question for you...
If someone offered you One Million
Dollars to eat one salad, 4 pieces of fruit, and 16 oz.'s of water every day for 3 months.
Would you do it?
What if they offered you unlimited
confidence, vibrant health, and happiness.
Would you do that?
I Love You,
The Thin Tamara"
Yeah well I'm glad the ThinMe loves Tamara, because I'M not overly fond of her today. In fact I'm pretty tired of her krap.
It doesn't seem that I can completely prepare myself enough, or build up enough strength, or momentum, or zeal or whatever to completely overcome a little collection of onslaughts by life, WITHOUT eating in response--- not overeating badly, notwithstanding. I STILL chose to EAT...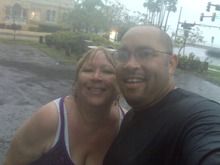 I guess it was a collection of things yesterday. Getting caught in a thunderstorm with one of my walking buddies, Reggie, was actually kind of fun in retrospect, after it got over being scary. Scary, because Tampa bills itself as "The Lightning Capital of the World"... which it may not really be, but it does rank up there in the top five of average strikes per hour. So when our walk was interrupted after getting a mile and a half from our cars, and we had to walk back in pouring rain and thundering and lightning BIG time for twenty minutes, I just kept saying to myself "So? If this is your day to die, this is your day to die." We got back, obviously, but still... it was a little unnerving...
Then my son, who keeps waffling on what he is going to do with his life, comes back from the recruiters. I have JUST finally gotten my head around the fact that he plans to join the Navy, just as I have the other son coming back from Iraq. He comes in saying, well, they are not accepting more recruits to ship out for 9 months, nor the Air Force, but the Marines are interested in me. Dear Lord, NOT the Marines. I keep my mouth shut and go along. A little later in the day after him being testy off and on (which is what he does while he is processing information for himself) he finally tells me he does not REALLY want to go to the Marines, and is willing to WAIT to go to the Navy. Which is great but begs the question, so what are you going to do right NOW to support your 21-yr old self? His on-again-off-again trying to "find" himself WITHOUT going to college I have found stressful to cope with mentally.
Then there is one of our deals that falls through, after the poor client has already done an appraisal, because the lender providing the funds had suddenly withdrawn the program WITHOUT NOTIFICATION, and now my broker has to go to the client and say, sorry, the programs remaining you don't qualify for.
And I go to the foot doctor for a toenail problem and he tells me I need to have minor surgery, on both feet, one for one thing, the other for another. I am pleased to be able to correct a problem which has bothered me for nearly two decades with my left big toe, but...then it hits me...how much time down from walking? How is THAT going to affect things? What shall I do? Must find different exercises for a while. Must get READY for this coming up in a month or so. Lose all I can now, walk all I can now.
I go home, work halfheartedly a couple more hours, the rain doesn't clear and all my walking buddies bug out... and came a point, I just LET GO... said to myself, SCREW IT... I will EAT the tortillas my husband is proffering to me tonite, with his homemade version of Chico's hotsauce--- Chico's being a landmark from our childhood, a place that cuts across time and space and is filled with memories of our hometown and growing up and going there with our families and going there for lunch in highschool with our friends--- yeah, I'll eat your Chico's tacos.
AND the leftover ham in the refrigerator, when, after the trip down culinary memory lane, the on-again-off-again-Navybound son brings home three, seemingly hours-old kittens he found while walking to the store, lying in the water at the edge of a driveway, which now have to be nursed. I just CAVED.
I get it...I reached out for something that reminded me of times that were simpler, and safe, and worryfree, because my parents were doing the worrying, not me. So. I wasn't strong after an UNUSUALLY stress-filled day where ALL the planets and stars seemingly aligned against me. Okay, ONE for you, little universe. I can see clearly now: You mean you had to let ALL those things line up together JUST to get a few tacos and some ham down my gullet? Really? Seriously???
HAH. Bring IT ON. Apparently you have to play dirty, because you realize IT HAS BEEN BROUGHTEN. By me. TODAY, I see how you are...in the light of day, the rain is gone, the kittens will be going to the vet who takes foundlings, the son will be looking for a job, I'll be trying to find business to replace the lost account, and I have a new day to tackle fresh, a new set of choices. Back on track again today, suited up, reporting for duty. Bring me another gallon of water.