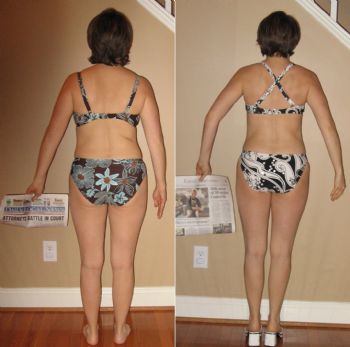 I just finished up the Turbulence Training 60-day Twitter Transformation Contest, and was pleasantly surprised by my results. Well, the finalists have been posted, and I'm among them! So I thought I'd explain about the contest and share my entry. (If you haven't voted yet, please visit
www.transformationcontes
t.com
by Tuesday, March 24, 2009 at 9am EST to do so!)
For this contest, I had to sign up for a Twitter account, and then start "tweeting" my workouts. I was also encouraged to tweet my nutrition, successes, and struggles. I had never used Tweeter before, but it sounded like it was right up my alley. So I took a set of pictures on January 15, 2009, and started tweeting! My contest ran through March 15, 2009, and as you see by the newspaper in the pics above, it IS possible to transform your body in 60 days, even if all you have left to lose are the last five pounds! (More pics in my gallery.)
Twitter is a great way to stay accountable to your goals. There are some really great fitness and nutrition gurus on there that you can follow. Their posts will help keep you motivated. But the key is to find some good people to follow you, support you when you need it, and congratulate you on your successes.
When I entered the contest, my goal was really to become stronger. I did, but along the way, I lost some inches as well. Here are my before and after stats as well as my essay.
Workouts used:
2 weeks of TT for Female Strength Phase II
4 weeks of Gain Muscle/Lose Fat
2 weeks of Buff Dudes Hot Chicks
Stats:
Weight: -5.5lbs to 111
Body fat: 15.5% w/ calipers (not sure of starting level)
Arm (flexed): up 0.5" to 11"
Chest: down 0.5" to 34"
Waist: down 1" to 27"
Belly Button: down 1" to 30"
Hip: down 2" to 35"
Thigh: down 0.75" to 17"
Total inches lost: 5.25"
Never having used Twitter before, I wasn't sure what to expect when I joined Craig's 60-day Twitter Transformation contest. But once I started using it, I really enjoyed the immediate responses and support from my fellow TTers. In a short time, doing my daily tweets was like second nature for me.
Within a very short time I had built up a network of fitness gurus and ordinary people, like myself, from TTmembers.com. The daily tips and advice really helped me stay motivated, and seeing other people's workouts and meals helped keep me on task. For instance, when I started Buff Dudes & Hot Chicks (BDHC), I saw two other TTers talking about their times for workout C. Because of that, I timed myself and worked hard to come in with a good overall time. And all of that made it fun, too!
Knowing I needed to post my meals and my workouts in a very visible way really put the spotlight on any poor choices I made. So when I was contemplating eating one of my kid's cookies, I'd just remember how disappointing it would be to have to post it on Twitter. I also had goals around completing my off-day workouts, and when I would tweet that I didn't get them done, people would check up on me to make sure I got back on track the next off day.
I really don't know what I expected coming into this. I started off already below what I had seen as my "goal weight" so I was instead focused on getting a more strong and fit body. I didn't expect the absolutely shocking transformation that resulted. I took a body that I thought looked pretty good and turned it into an even leaner, well-muscled body! My butt is smaller, my tummy is flatter, and seeing those pictures of my back make me so proud of all of the work I did.
Now, I'm hooked! I love using Twitter, and I've actually gained a ton of followers who have been inspired by my progress and dedication to improving my fitness. Thanks so much to Craig and the members at ttmembers.com, for all of your support and encouragement!