Friday, March 06, 2009
Well our afternoon work outing was a blast!! And as I played 'second' got to sweep for all of my teammates except my own rock - so burn those calories baby! I looked it up on the net and it said you burn 280cals per hour and we curled for 2.5 hours.
I certainly deserved those 2 Coors Light afterwards. Went home shortly after and was not up late - pooped out! In bed by 8pm and as a result have been up since 2:30am (I guess 6 hours of sleep and well rather than trying to toss and turn for the other 2 hours - since I get up at 4:30 I got up). I'll be ready for a nap at lunch but hey - it's FRIDAYYYYY!!! After today 3 more work days and off for 1 week!
I'm so pumped! Got on the scale this am and weighed in at 162.5!!!

I wanted to hit below 160 before leaving and I believe I will! I'm working very hard at it. Got my workout in this am despite feeling a bit tired in the arms/mid-section from all the sweeping.
Here are some pics from the event! I did not too bad considering last time I tried it was over 20 years ago. Even scored 1 point!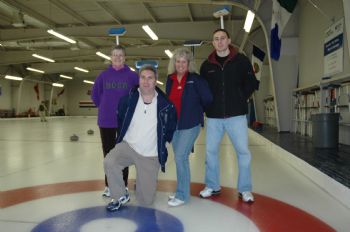 Me and my team "Mates"!
Me Sweeping my BUTT off - literally lol.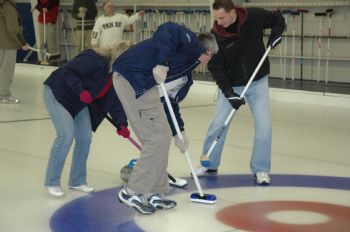 My pose shooting (still don't like the look of that extra chin but has to do with leaning down I guess lol).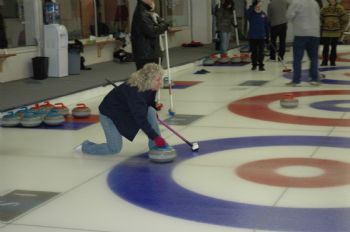 This event reinforces what a great workplace I was so fortunate to become a part of ... 'their family'.
Happy weekend everyone!!