Monday, March 02, 2009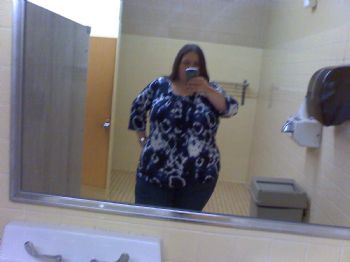 WOW!!! I am too excited. I went clothes shopping this weekend. I am learning more and more about myself. Trying on clothes this weekend even though bothersome a little I learned that I am bootylicious and curvaceous baby!!!! I love my curves. I can see that I am beginning to have a waist. I struggled with finding pants because I am long waisted and not petite. But according to Lane Bryant's new size chart I am a 7 (well more like a 6.5 but they don't have that size) but get this not average but petite (I am 5'5"). I was like WHAT but they fit well. The manager finally came over and was helping me she said I see what you are talking about because my jeans they fit in the waist but in the crotch and below my bottom they are a little too big so it is like I am in between sizes but I came down 2 pant sizes. I am now in a 22/24 not 28 (or bigger). Then I also found some cute tops. This pic represents my curves and just how much weight I have lost. I can't tell too much but I can in my clothes. I am loving my body even though my belly needs work. LOL!!! It can and will go away. But it is so good to have curves!!!!
I am getting my hair trimmed tomorrow and can't wait because it needs it. My son will start baseball practice tomorrow as well so I will become even busier than what I already am. I am going house looking today to see if there may be one to rent around the school I wish JC to attend. Please pray that if it is God's will one will pop up and be just what we need.
This month is going to be a good month. I can just feel it. I am challenging myself (as well as one of my groups) to miles this month. I want to do at least 100 miles this month. I would also like to lose 10 pounds as well....we will see. I know I can do this with dedication and consistency and the AWESOME people here!!!!
I hope everyone has a nice and blessed week ahead of them...Keep up the great work everyone...WE ROCK!!!!
~luvs and hugs
Mel
Support our Troops!!!
God Bless!!!