Saturday, February 21, 2009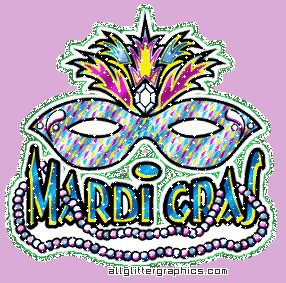 The blues and grays of winter are nearly over and Mardi Gras(a nicer way of saying Fat Tuesday) is close at hand! I see Mardi Gras as a way to scare off winter. Wouldn't you run if you saw the lunacy of NOLA on Tuesday? I dont know who can throw a party better than the good citizens of NOLA! Mardi Gras is a decadent pleasure that occurs the day before Ash Wednesday which begins Lenten Season. During Lent it's traditional to ourselves a pleasureful thing(something we Sparkers are already familiar with) and be much in prayer for strength. There will be many parties on Tuesday as people celebrate Mardi Gras while some will use it as another excuse to overindulge in bad food and drink choices. What choice will you make Tuesday? I'm going to enjoy Bourbon Chicken and Dirty Rice accompanied by several vegetables, a slice of hot cocoa cake with fat free ice cream, topped with strawberry sauce and a drizzle of chocolate syrup. That's about as decadent as I can get! For my party, I've got a 500 calorie burning workout planned and I'll try to do some walking for my Mardi Gras parade. I'm not wearing costume and mask! It causes a flash back to 1985 but that's another story...

As fpr the denials of Lent let's challenge ourselves to do MORE cardio, MORE strengthening, drinking more WATER, and working harder at making better choices. While others are letting the good times roll in sheer decadence, let's make the good times roll in good health with our Spark Mates!