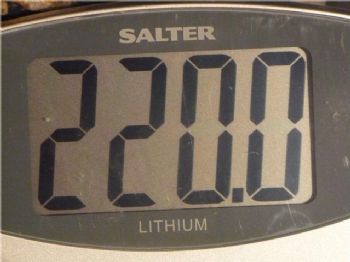 ahem.
thats right. weighed in at 220 today. kinda funny actually. i looked at it and was like 222..great. then im like, wait?? 220? then i had to ask myself again what the number was. after that, i screamed loud enough for walt to investigate, and ran for the camera. naked. i am sure the neighbors got a great view.
seeing that number this morning made me get through my workout for the day because i was sore from yesterday.
but i:
*did an ab workout. (crunches, reverse crunches, crunches with twist, and that banana thing)
*30 wall pushups.
*120 minutes with ms. leslie (three fast miles, walk and tone, family walk, one mile walk, one mile booster)
*3 different workouts from exercise tv (tai chi, yoga and ms. leslie's kid walk)
*one mile jog
i ended up at 210 minutes for the day and i am sore.
i cannot imagine what the dogs were thinking watching me attempt yoga. holy guacamole is that difficult. i look forward to the day when it isnt that difficult. it doesnt look tough when walt does the downward dog. but it is. i know he was thinking, "is she standing on her head? what is she doing? mom? mom, ill show you how to do it."
duncan cant do a downward dog any more than i can, so im not worried about his criticism.
:o)
the jog went ...okay. couldnt do it all but i modified everything so i could do it to my level. i did jog a lot more than i ever have before, though. so, yay!
had chinese for dinner tonite. veggie lomein and garlic veggies.
i had asked for a spring roll but was given an eggroll instead which really just ruins the entire meal. i really look forward to the spring roll the most. it sucks when you get something and cant eat it.
and its always me. i have never seen r.'s order get messed up. (not that id want it to but it really is always me)
i remember looking beforehand at people's tickers and thinking, wow.. 220-something. i cant wait to be 220-something.
and even now. i looked at someone's ticker earlier. 229. i thought, wow, i cant wait to be 229.
then im like, wait!! you DONT WANT to be 229!!!
i guess i am thinking 211... i cant wait to be 211. dont know why that number but its sticking with me.