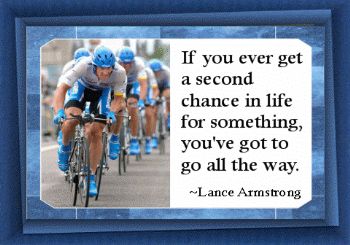 My team captain has challenged us to blog this weekend.
The subject? "Blog about your motivation for losing weight. Why are you pursuing this healthy lifestyle and has your motivation changed since you started?"
Well... I think I have more than one reason. And I'm getting my second - or is it my third - chance with Spark People. I really appreciate that so much. Von, (Guinefort), in particular has kept in touch with me and encouraged me all this time, even when I never came in other than to read her emails and check into the Thich Nhat Hanh team - where mostly I just read entries and never wrote.
I joined in 2007. I've checked in but not kept active, even though I did maintain ten pounds of the loss that I had then, for which I am grateful. Life intervened. I had health problems over and over and just did not fit the program into my life like I should have. I've started and stopped and started and stopped and just never kept on going. I need to do that. My daughter should be a good example to me. She's so persistant - even when she's been told she can't do something, she buckles down and not only does it, but does it perfectly! With bells and whistles!
I hate being so fat. It feels terrible. I miss being able to do things that I used to do and move more easily. I used to be active and have a garden but now I don't do much of anything that's offline. I have pain all of the time, too. Not sure if losing would help that but I hope it does.
I also have a son with Autism at home and he needs me to be around for him for as long as I can be. I need to be able to take care of him but sometimes my health issues make it hard for me to take care of myself. When I injured my ankle a few years ago, my son was even taking care of my when my bf went to work! I kid you not. He can use a microwave and he was making me instant coffee and feeding us Banquet tv dinners. Gads, how unhealthy is that? If I get sick and go to the hospital, my bf has to take him to work with him and that is a pain. And he is not cared for as well and that upsets me. Thus, my health affects more people than just myself.
Now I flew to California from Ohio, bringing my daughter and one son with me, seven years and several pounds ago. The seats were tight back then. Who knows how much smaller they are now?
I decided to stay here. It's where I came from, originally, and it is my home at heart - as well as the home of the man I love, whom I now live with. (And that is a story for another blog)!
My daughter moved back and married. I also have two sons that stayed in Ohio. I miss them. My daughter has been valedictorian twice in technical college. I missed both graduations. Why? Because I knew that I had gained weight after an injury and another illness, and those plane seats are so small I know that I won't fit in them. I heard they have made them even smaller!
My daughter gets her BS in 2010, after a long hard struggle of working mostly full time and going to classes full time. It's been really difficult for her and she's done it all without me. Thank God for her husband and his family! And for her diligence and goodness and intellect and just plain perserverance. She's awesome! She deserves to have me there. She has begged to have me there.
It should take me about a year to get back to the weight that I was when I barely squeezed into one of those little seats. I can't really afford to pay for first class seats for my son and I, so we both need to lose some weight so that we can go to her graduation. I am so very proud of my dear daughter, and I miss her and the two sons that stayed behind in Ohio so very much. I don't want to miss this milestone in her life. She's worked so horribly hard to get where she is now, and I am so proud of her and her husband! I really want to share this celebration with her. I also need to meet her husband's family. I haven't done that yet, just by email, and I really appreciate how loving and supportive they have been to my daughter. They are her family, now, too... and thus mine, and it's remiss that I haven't even met them yet!
So you see, my ambition is to squeeze into one of those horrible little plane seats. Think that's reason enough?