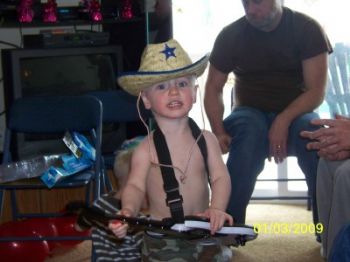 had a most excellent day.
:o)
i amuse myself.
i did two hours walking with ms. leslie.
i did my twenty minute bellydancing with kathy smith.
i did my abs workout. well, that didnt go so hot but i did do some. did 15 crunches, 15 reverse crunches, and 15 crunches to each side. not terrible for my first day.
i also did my arm strength training. woohoo.
and i did 2 miles on the treadmill.
the first few minutes on the treadmill were just wonderment. how have i been neglecting it? it is such a good workout.
i will not forget either ms. leslie or the treadmill. i just have to find a perfect balance of both because i do love both.
i didnt clean the closet out. boo.
but i did get my taste of home: healthy cooking magazine.
yay!!!!!!
cant wait to go through there and find some recipes to try out if i ever find a stupid job and get money.
blah. change of subject.
i found some apples i LOVE. empire apples. got that tangy taste of granny smith but you know, not as expensive.
and while im on the subject of fruit, someone tell me why i cant grow a banana tree?
i live no where near a store and go through bananas like crazy.
nephew jonas considers himself to be part monkey. i think i am too.
going to go watch pineapple express with r. after i wring walt's neck!
that dog is the sweetest dog but he makes me crazy.