Monday, January 05, 2009
This just arrived today in the mail, and was soooo easy to set up and start on. I'm in love! I love riding my bike but it's cold outside. I also love watching my shows. So now...I do both at the same time. My limits in riding prevent me from watching too much TV and will help me lose some of that weight.
Bell Motivator Mag Bike Trainer: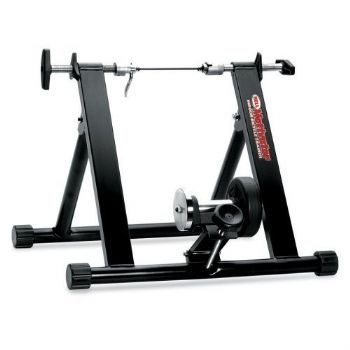 www.amazon.com/Bell-Moti
vator-Indoor-Bicycle-Train
er/dp/B000AAYBWS/ref=pd_bb
s_sr_1?ie=UTF8&s=sporting-
goods&qid=1231193579&sr=8-1
I highly recommend this for anyone who wants to exercise at home and has limited funds for a cardio machine!
I already did 30 minutes on my bike and tracked it (under "stationary bike")...294 calories burned! My pact with myself is to ride my bike whenever I'm watching a show...soooo, if I want to watch another show later tonight, I have to hop back on it. I find the time goes much faster when I'm reading or watching something and I'm less likely to feel tired and give up. 30 minutes went by quick!
Next to purchase will be a book stand for my bike...since I'll be back in school and all :)