My Christmas Cheats!
Tuesday, December 09, 2008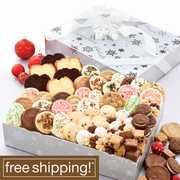 So I work at a small not-for-profit organizations & at Christmas time, we receive many cards, sweets & cookies treats. I thought already have a favorite cookie, Keebler Fudge Stripes, right? Wrong! Its those Cheryl & Co sugar cookies with frosting! Its in the winter time do we get these & every once in a while I will order 12 cookies which cost a whooping $21.95 plus shipping & handling! So yes, I only afford my these when a gift or my crave becomes a wave & crash down on me & I have to order them!! They are also great as a gift to me of course!! I know I should be doing some sit ups or push ups or punching into air or doing relentless high kicks but I just wanted a cookie!!!

So I'll do all that & more after I eat maybe 2 more cookies? Or is it enough that I am lifting these oh so heavenly cookies with my forearm to my mouth savoring every crumb & frosting? Well it was worth a try!!

Have a Great Day!
Blessings,
Dee