Introducing the New SparkPeople Store!
Monday, November 10, 2008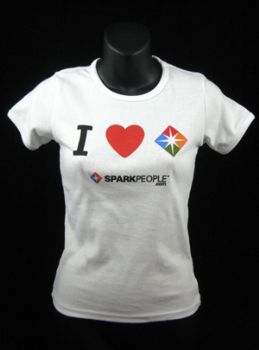 We are thrilled to announce the opening of our new online store at
SparkPeopleStore.com
. Offering official SparkPeople-branded products that will help you reach your goals, each purchase you make will Spread the Spark, and help SparkPeople.com remain 100% FREE of charge!
Our members gave us lots of ideas for new products, from
new T-shirt designs
to
fitness equipment
to
calendars
and more! You'll find new items and some old favorites at
SparkPeopleStore.com
.
The first 500 people to make a purchase will also receive a FREE SparkPeople Window Decal!
We hope you like the new store and its products! We'll keep you posted as we add even more great new items in the coming weeks!
If you have questions about the store or its products, please post them in this message board to get an answer:
www.sparkpeople.com/myspark/messageboard.asp?imboard=3&imparent=12660025.

Thanks!
Member Comments About This Blog Post
LEKLOV
I would love to see a rubber bracelet of some sort (like the Livestrong bracelets) that would be a daily remainder of why I am trying to live a healthier lifestyle. Maybe it would even defer me from eating poorly out when I see it there on my wrist! Anyway, just a thought...


2142 days ago

GONABFIT
a year late... but I like the spark store.


2704 days ago

SHARONV6
I had had trouble ordering my Sparkpeople T-Shirt...but I jumped in again today...and it worked. I can not wait til the shirt arrives..I'm so excited. I am fairly new at SP. I will Share the Spark wearing this shirt!!


2977 days ago

MARYJOHANNAH
I have just about every thing out there but I really would love to have the exercises in one tape. I like the idea that most are short on time and doing a few in my work out room is alot easier then in front of my computer. I would purchase one in a flash


3075 days ago

YO~YOLANDA
Happy Thanksgiving All~Cut off the crust on your pie to save 100 calories!!!


3076 days ago

PWRHSE2
I love the fact that we can spread the spark with these beautiful motivational tools.
The water bottles will not be available till December but can we still order them now?



3079 days ago

LAURPUD
RE: the wall calendar. What size is it? Does it also have inspirational quotes like the desk calendar? I have limited space...


3079 days ago

JONAHSADIE
It is great that you have opened a store. I would just like to see the dvd sold separately. I have everything else. I am a big fan of dvds, especially in winter!!!


3080 days ago

MIGS5454
the idea is great and just like everyone has said before me, the options certainly need some work. Just in the t-shirt area - what about simple options like a scoop or v neck for those of us who never wear the rounded standard t shirt neckline. also security with a credit card is a huge issue and folks need to be reassured that the proper steps have been taken to secure the purchase process.


3080 days ago

CHOCMOM


I haven't had any luck in ordering. I keep getting some strange error - "Error The requested service is unavailable between the selected locations." and I am very concerned that it doesn't have any security for the credit card purchase (I logged back in today - a week after the last time I logged on and all (ALL) my credit card info was there - normally a portion is hidden. How have people been able to place an order? Are they just printing their order and mailing it in? This has become frustrating - I've waited a year for some products beyond the red and green shirt and now I can't place my order.

I really want one of the T's. I think more people will ask me about spark when they see me wearing it.


3080 days ago

TURTLEGRANNY
I think this is a great idea too! I also like Yo-Yolanda's list, maybe she should be in your buying dept. :) Great ideas.


3080 days ago

TER_BEAR1962
Love the store idea and look forward to expanded offerings as it gets established. A link to the store through Quick Links (similar to SparkRecipes) would be helpful.




3080 days ago

GYPSYHEART
Love the store idea. The kit needs to list the size of ball though, and perhaps offer a choice of ball size and a sizing chart. I bought a ball and had to return it because it was too small for my height. If the ball is a 65cm size that is offered in other Bell kits sold elsewhere it would be too big for a short person.

I love Yo-Yolanda's list of suggested items. Boy, she sure was thorough!
I'd like to see a loose tee shirt, please, especially for larger women. How many size 2X women want to wear a fitted t-shirt? Oh, and extra long too, to cover the hips.


3080 days ago

TLB513
I, too, would like to see Coach Nicole's workouts available on DVD!!!


3080 days ago

TIME2ACT
I love the idea of the SparkPeople Store. This is a great way for the members to support this fantastically FREE site!
The suggestion I would like to recommend is having the DVDs which are offered in the
start-up kit, available separately....as some members like myself have previously invested in equipment and don't need to buy the whole kit.




3080 days ago

HONNEYEATER
I like the store idea very much

The store just needs a few more items.
HonneyEater



3080 days ago

JOYTOBEFREEE


Would love to see sweatpants and hoodie sweatshirts. I would live in them....lol. Thank you for such a terrific site and you do a GREAT job.

Susie....aka joytobefreee


3080 days ago

BABARR67
Love the store idea. I would like to see a food/exercise tracking calendar... kind of like a day book but with a full days room on the weekends. I don't mind tracking online, but I dont always have time to log on the computer and I know that writing down what I eat is one of the indicators of success at getting healthy. Thanks for listening!


3080 days ago

SANDYERHK
I really like the idea of this store and have made an order, my only problem is that there doest seem to be any security for credit card numbers. You might look into that.
This is the only site I've used my card on without a security system obvious. I'd like to hear from you about what you do for security to protect our card numbers. Please contact me at seknittel@yahoo.com.
Thank you.
SandyK


3080 days ago



Comment edited on: 11/19/2008 11:32:28 PM
YO~YOLANDA
I just made my purchase...Got the "I ( heart) SparkPeople" Fitted T and the fitness calendar...I had to get a new calendar and I love that I can support my all time favorite web-site by making my purchases thereby, helping to keep this site FREE!!!

I would LOVE to see more variety...Hand Towels to take to the gym...megnetic calendars...totes or gym bags...beach towles for the pool...flip flops...yoga mats...SWEAT SHIRTS...coffee mugs...gift cards...small give away items that we could us as incentive for our TEAMS...magnetic locker mirrors...journals/food/exercise...
motivational posters...calorie trackers...note pads...sticky notes...pajamas...shorts...key chains...pins...pens...Daily Affirmations...magnets...books from Spark Team...markers...small magnetic dry erase boards...tracking charts...Goals Packet...Personalized Items...Cook Books...Necklaces, Charms, Bracelets, Jewelry...scale...sweats...baseball caps...bandannas...Nutrition Information...Success Secrets...

Oh you get the idea...More...more...more...Just like your web-site is packed with something for everyone...so diversified...I think you should offer a larger variety of merchandise to appeal to the masses.

Nice Start though...Just in time for the Holidays!


3080 days ago

LOOKING_UP
LOVE The new store!! I like the new t-shirts and would really LOVE a long sleeve t-shirt option too. Do you think that long sleeve t-shirts will be sold? Sweatshirts would be a great addition too!!!


3080 days ago

JOIJA723
I love the idea of a SparkPeople Store!! I think you should offer hand weights. I'd buy them!!


3080 days ago

RESTFINDER
I love this new store. And I love that I can put items that I am interested in on my Amazon wish list, which I look at frequently. Thanks for this new opportunity. Restfinder


3080 days ago

LADYGATOR04
SparkPeople is just getting better and better! I'm going to spread the spark with the purchase of a SP tee shirt.


3080 days ago

IRIESAXI
I need a 75" ball. Please state the sizes that are available. Also, how big will the water jugs be. Sizes please?


3080 days ago

PIXIEMOMMA
I am very interested in the ball package but the details are vaque. I am barely 5 ft tall so I would need a small ball (55). Is it ??


3080 days ago

AUBREYJO
That's so cool! I have been trying to get everyone I know who "wants" to lose weight to this site!


3080 days ago

TRAILWALKERJO54
Hi great start-- but I would love to see the t-shirts in different colours for teams--- and could you possibly start offering heart rate monitors , workout shoes, shorts and other apparel?? That would be so cool -- Thanks so much for this great idea... Jo


3080 days ago

THISTIME1975
sounds cool!


3081 days ago

BUTTERFLY_MT
I'd would really like to see more options to get the "women's fitted t-shirt" OR a "regular t-shirt". I like the "I (heart) (SP logo)" but I don't want a fitted t-shirt. It'd be really fun if you could have a design and then choose from a few styles of shirts and then a few color choices from each style, or at least different style/color combinations.


3081 days ago

FUNINFLIPFLOPS
Too bad you can't turn in some of your points for real life goodies from the Spark Store! But great ideas with the store!


3081 days ago

LINDACHRISTIE
I tried to make a purchase from your store, but was dissapointed when I came to check-out to discover you only accepr some credit cards and not a meastro debit card.


3081 days ago

THENEWVERDA


Received my fitness kit the other day. Have not tried it out yet. Can't wait to especially use the band for toning and strength training. I also received the SP window decal in my package. But since I don't have a car I'll put in on my fridge. Also like the fact that they had 10 cards in the package to pass around. I have a few people in mind that I think will benefit very much from the SP site.

But I will be purchasing shirts soon and maybe the lunch bag.




3081 days ago



Comment edited on: 11/19/2008 12:34:52 PM

BJPETER


I already purchased my T-Shirt and Spark fitness set. can't wait until it arrives. BJ


3081 days ago

BETHIN_MN
I think this is a great idea to help SP generate additional income. i always wondered why they didn't offer more products. I am going to go check it out right now!


3081 days ago

KYRRDIS
I'd like to see DVDs of SP videos, so I could do them in places where I don't have internet access (or give to non-Web relatives). One collection I'd like to see would be the Swimsuit Bootcamp videos, Days 1 - 7.

A collection of the Pilates videos would also be good, although more would probably have to be made first.


3081 days ago

WITHSPIRIT
I made my first order - woohoo!!!!!!!!!!!! The fitted t-shirts look great. I suggest you add the flame t shirt to the regular, non-fitted shirts but please don't take away any of the fitted shirts!! I love them and so far, I ordered the I heart SP. Can't wait to get more but want to see how they fit first =) Thanks, SP!!!!!!!!!!!


3081 days ago

CMDH93


I like the idea of getting eating lifestyle products from the site. It would be very helpful to include the sized of things, like the lunch cooler for instance. Also, will the water bottle have a filter in it? I had one that did and one could buy replacement filters for it when the filter was too used.


3081 days ago

SPIFFYSMILE
Love it! Any chance of adding some key chains or mugs?


3087 days ago

LINDASID
looking forward to making some purchases


3088 days ago

SHERI1969


I'd love to buy SP items, but on $20 a week, don't think it will be any time soon. Great look though!


3088 days ago

YUNKERCM
I love it-----Carol (CMY)


3088 days ago

JUDYBUGS
Do you take money orders?


3089 days ago

DONHARCHC
I would like to be able to buy the fitness equipment separate. I already have a ball.


3089 days ago

WATOGA17
I would love to see the "spark to a flame" t-shirt in a regular, rather than fitted T-shirt.


3089 days ago

SUPERDELUXE
Hey.

I hope you come up with some new t-shirts for the males of sparkpeople. New colors are fun, but I already have a green sparkpeople t-shirt, would love to have some other t-shirts with different designs, and not just color!

Just a thought. I am always up for repping Spark where ever I go.

Otto


3089 days ago

RKSPICY
Wow the new shirts look great!!!!


3089 days ago

MARYANNE4403
this is such a wonderful idea, i can't wait to buy some stuff, so i an spread the spark!! woo-hoo!!


3089 days ago



Comment edited on: 11/10/2008 9:07:31 PM

KIMUSH23


I love this idea! Thanks so much Sparkpeople!

SPARKENDOUSLY Your SPARKPEOPLE Friend


3089 days ago

JOE731
This is awesome


3089 days ago

| | | | |
| --- | --- | --- | --- |
| Member Comments Page (71 total): | 1 | 2 | Next > |



Disclaimer: Weight loss results will vary from person to person. No individual result should be seen as a typical result of following the SparkPeople program.