Do I wish you a Happy Halloween?
Friday, October 31, 2008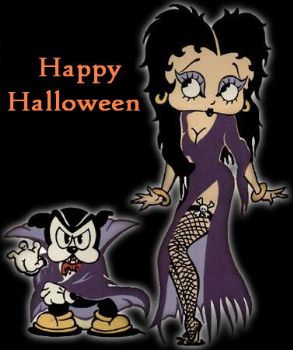 Does Dracula avoid farting when his coffin lid is closed?
LOL!
Ok, sorry for repeating that (for some) but I just think it's hilarious!
I have a very busy day ahead of me... I need to do a little cleaning around the house, gotta go to town, daughter's class halloween party is this afternoon and I'm bringing the chips, I still have to make her fairy skirt (for tonight and tomorrow night, no costumes at school) and tonight there's my son's football game a long way from home, probably over an hour's drive, we'll see! And sometime in between school and leaving for the game, my nephew wants me to paint a spiderweb on his face (he's a cheerleader and they are doing a routine to Thriller, which I heard is really cool) and my son want me to fix him up as a spider man for the game tonight... black warm ups, glow in the dark web and spiders all over him. sounds easy and I'm sure it is... but it's the time! I alread feel rushed!
Chill.
I will be back on when I can today!
Happy Halloween!