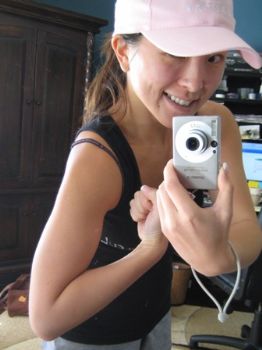 ***Physically***
I believe daily workouts have spun my metabolism almost out of control! It feels like I'm doing nothing but eating … all … the … time. And even when I do eat trash, it takes me no longer than two days to get my weight/body back to where it was before. This is new to me.
It's also weird to say that I'm losing weight without being proactive about it. Maybe it's the intensity of my workouts that make it so, but it just feels like my body is shedding fat just doing whatever I'm doing. This is also strange.
I also have TONS of energy. It's ridiculous really, because it can be borderline hyperactive. For example, sometimes my fiancé has to stop me and tell me to slooooooow down when I'm telling a story or how about in the shower this morning after a lengthy run, I felt the urge to jump on my bike and ride around the neighborhood. Can you say: ADD?!
***Mentally***
Last time I wrote about how I was still chubby in my mind. This is pretty gone! Maybe the fact that I'm practically swimming in all my clothes serves as a friendly daily reminder (which may be why I prefer my exercise clothes over the norm).
Re: my exercise routine, some days I get bored. I feel bored of running, bored of Curves, bored of ST. Instead, I crave a sculpting session or a class that focuses on core training. Either way, I may be bored of my routine and subconsciously seeking new challenges.
***Emotionally***
Something strange happened recently. For the first time in my life, I'm actually really happy with my body. It was scary to see the new and amazing form that was taking place, but you know what? I kind of like it and it feels even better to know that I now treat my body with the most utmost respect. So this is what it feels like to love my body.
Because I'm happy with what I have, I no longer feel the need to chase 105 lbs, even though I'm so close (currently stabilized at 109-110). I'm still going to do my daily workouts, eat healthy and log my food on a daily basis, but I'm not going to sweat it if I stay at my current weight forever, especially since I have more factors going on for me (building muscle, which weighs more than fat). Of course I'm not going to fight it if I happen to get there, provided I don't look too thin.
Ok so that wasn't so "emotional"... I just had to get that part out and it just flowed into that space.
Other emotional points… Oh yes: euphoria.
I am fully convinced that daily workouts have something to do with the daily euphoria I feel everyday, which is fine, except on some days, it gets so overwhelming that tears brim my eyes. I have no reason to be euphoric really and yet there I am, standing by myself about to cry a river! I do not lie when I select constant 10's on my moral meter (and the last time I didn't workout it was due to a stomach virus). Jeez. People pay for this stuff and here I am, unable to shake it on a daily basis.
***What's been working***
Change of perspective. Recently, 100 Pushup Program's Week 4 frustrated me so much that I thought about quitting it. Right before I threw in the towel, however, I realized that my initial motivation to start the program never had anything to do with doing 100 consecutive pushups, it was that the exercise itself gives you killer arms and, well, I wanted that. After I remembered that, the program became fun again and then – would you look at this! – I passed Week 4 Day 3 with flying colors. Taking the pressure finish this program within a certain period of time allowed me to cheerfully repeat Week 4 next week… For which I believe will be the last time. :) So lesson here? When things get tough, remember what and why you started the project.
Running 4 days a week versus 3. Actually, I've tried implementing this for the last month, but things just keep coming up so that I only run 3 days (or if there were 4 days, one would only be a partial run). I don't really know why I wanted to do this except I feel at home when I run and the idea of walking 6 miles like I used to no longer appeals to me. I might be developing a compulsion towards running based on a fear of performance loss, but I'm not going to think about it too much. All I know is that it's the best feeling when I complete a run and I'm going to do it because I love it.
Weighing in weekly at the most helped me to love my body. I can't believe I placed my self-value off of some dumb numbers on the scale! Seriously.
Lastly, I am shocked at how well 6:30 am workouts are panning out. Morning workouts used exhaust me during the day, but for some reason, it no longer takes a toll on me. If anything, it makes me even more hyper and I'm much more relaxed during the day, since it frees up my afternoons.
***What's not been working***
Depriving myself of goodies (or "baddies!" as they should be called). I wrote before about how important it is to indulge here and there and while I felt like I was, in actuality, eating one cookie a month could and should easily be referred to as DEPRIVATION. Boo me. I already eat a block of dark chocolate every morning (coupled with green tea, it prevents cancer!), but I'm thinking about setting a weekly/daily block of time when I can treat myself to something deliciously evil. I mean hell, I burn more than enough calories to splurge in cookies, cake, ice cream, pies… Mmm.
***Overall***
I am impressed at how little time it took me to get to where I'm at. It was only in July when I was a pudgy couch potato who broke a sweat walking! It is very special how forgiving our bodies are, isn't it?
It occurred to me that my wedding is 14 months away. When I started working out, I stated that I wanted to wear a white bikini when I tied the knot. I know I wanted it to happen, but I didn't think that it takes only a few months to get that body (at least for me and where I started from). A year ago, I promised myself to start working out a year before I get married to get "that" body. Whereas I'm pretty happy where I am now, I'm confident that I'll still be working out daily next year – who knows how much more amazing my body will look then! Talk about a pic to show my future grandkids.
Current Weight: 109-110 lbs.
(Body Fat and BMI to come)