So, what did I do right?
Tuesday, October 21, 2008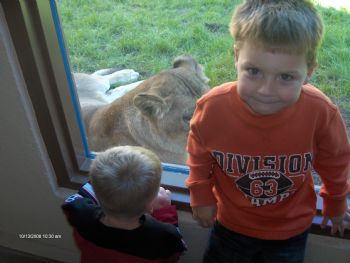 What did I do right yesterday? I ate right at the low end of my calorie scale, 1200 calories. I did 35 minutes on the stationary bike, and walked 15 minutes. I did 20 pushups and 45 crunches. I didn't eat ANY chocolate. I didn't eat after 8 p.m. I drank 8 glasses of water. Yay, me!

Now, on to today. I have already done 10 pushups and 25 crunches. I've packed my breakfast, lunch and dinner (it's gonna be a long day). Total calories, 1270. My gym bag is packed to work out at lunch. I'm on track to succeed today!
Pic: My son standing in front of the new lions at Zoo Boise.