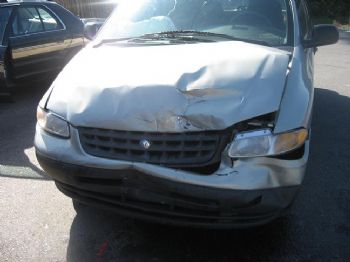 For those who don't know, I made a "daring attempt" to "run" my van into another car and did so with much "success" .
THE VAN IS A TOTAL LOSS!
While the whole deal of "trying" to take my life and the life of those around me does NOT in any way thrill me, the fact that the van is a total loss does.
I would have preferred to have ran that van into an empty building than another car and would have waited until it was just me (no kids though dh would be fine). But as it seems, things didn't work out that way. I can only be thankful for that fact that no one was killed...and the fact that THE VAN IS A TOTAL LOSS!
Really, I hated the damn thing from the day I got it. I didn't want it at all but I needed something and dh is a lazy "ass" and wasn't going to take me to shop around so I found something a couple blocks up and ta-da.
The van "drives" but lord it was an embaressement. I'm only 28 years old(25 at the time I got it) and I'm already in a mini-van! Then I get to tote around a bunch of kids to the YMCA...Plus I got a military decal on it so everyone knows I'm a military wife and to top it off...I'm FAT!
So I'm like the worst that you expect when it comes to sterotypes-Fat Military Wife/Soccer Mom toting around a bunch of bad ass kids.
But then I had to have the "Crap" van to boot!
Yeah try passing other moms in their mini-vans and they need to tell you something about the PTA/PTO "Really quick" and yet you got to do sign language to let them know to hold on cus ...you ain't got no power windows.
Yep, car in park, undo seat belt, pull up arm rest REACH all the way over and start manually rolling down the window...all while holding up the line.
*sigh*
Then you can't honk back at the idiot having a fit cus your horn doesn't work!
...along with your air bag...
I think the worst was when I went to K-Mart to ask if they still sold " whycassette tapes"...the kid there was clueless and I had to explain what they were. Then he asked what it was for and I told him my van and he said, "They still make cars with those things?!!" and then he proceeded to laugh...
I know, I know...I shouldn't be so...shallow...so...vain...but gosh darn it if I'm gonna go all out in a mini van (while in my 20's mind you!) then I want to go all out in a damn mini van! Power windows...CD PLAYER! ...a WORKING HORN...not so many rusty dent's from some kid throwing a base ball at it.
****************************
**************************
*******************
I just received a call from the people I hit! That was a bit scary. I've not been able to call them cus I had my tooth removed on monday and wanted to be able to talk without sounding drugged...drunk...or high. LOL
I guess I'm a really sweet person...at least according to them, and they wanted to call and help out.
I can say that Dh was amazed at how well I handled things. The other woman panicked but I was totally calm. I sat with her the majority of the time and then I sat with her daughter and her friend. I did the whole "rub your back, talk to you the whole time" and even when they took her to be checked out I caressed her face, kissed her cheek and talked to her telling her that everyone was okay, she was okay, "I'm right here with you and I'm going to make sure they take good care of you." and I stayed with her until she got into the ambulance and then stayed with the girls until they were picked up.
Dh was amazed at how calm and under control I was. He said that I kept a good sense of humor, never got stressed and more importantly...didn't go into shock.
So they called and said that I was really kind to them and they wanted to keep in touch.... they invited us to the pumpkin patch because they knew that's where we were going and that we were lost.
OMG IS THAT AMAZING OR WHAT???
You just don't get people like that anymore. Most people would be trying to sue your pants off or screaming into the phone. In fact my insurance company told me not to call them for those reasons.
I didn't call cus like I said...pulled tooth...slurring...sounds like a good reason to say "see, she's drunk even now!"
no...I was not drinking...
Nor am I drinking now...
Dang it...I'm not explaining myself!
LOL
hugs and kisses-Kat