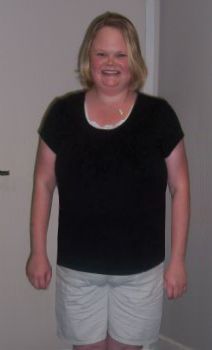 Do your Boobs hang low - do they wobble to and fro? Can you tie 'em in a knot can you tie 'em in a bow? Do your boobs hang low? LOL I had to do that.
WOW is all I can say! I have seen so many people on SP with these pictures of them before and after. So I was lucky enough to find a link. My jaw is on the floor, I am in AWE! I would like to lose 125 overall, but hey I am grateful for ANY amount. So, I submitted my start picture and then chose to see what I would like like 50 lbs less. WOWZA!
It would be just awesome to have less boobage and belly. Sometimes I've wondered if I had my boobs reduced how much would one single one way? I know that's probably TMI, but honestly it'd be interested to know. I'm curious to know what my belly would way all gone. Oh how nice to not have any more backaches and misery. Instead happy bliss. I am 15 lbs into that 50 lb. amount and am thrilled.
50 lbs just think of what that could be equal too. . .
• 50 lb bag of sand
• 10 – 5 lb bags of sugar
• 5 of my 10 lb. toy miniature schnauzer, Maizy
• 5 – 10 lb. bowling balls WHOA!
• 10 – 5 lbs of ice
The list could go on and on.
I am a DONE Girl, 15 lbs DONE and want to be 110 lbs DONER!
For now, I am happy and blessed to be where I am!
(To see my TRUE start pic look at my first blog entry or my photo gallery)