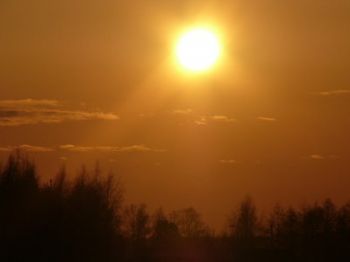 I'm having a physical next week, so I had my bloodwork done and it came back with some not so good numbers. My cholesterol is on the high side. That's not a surprise, it runs in the family. The good news is that my good cholesterol (HDL) is high (65).
What was a surprise was my Vitamin D level. According to the results I have insufficient levels of Vitamin D. It's not low enough to be considered a deficiency, but it warrants attention and now.
I've been doing research on this since I received the news. What I have found out is this:
Vitamin D Deficiency and insufficiency is a hidden epidemic
If you live in the Northern hemisphere (above 37 lattitude) you are likely deficient or insufficient in Vitamin D
Low levels of Vitamin D can mimic the symptoms of fibromyalgia and chronic fatigue syndrome
Low levels increase your risk for breast cancer, colon cancer, prostate cancer
Low levels also increase your risk for osteomalacia (softening of the bones) or osteoporosis
Low levels of Vitamin D have been linked with higher risk for having Multiple Sclerosis
Now, we can synthesize Vitamin D in our skin through sun exposure. BUT, we use so much sunscreen nowadays that we don't produce this crucial vitamin. And of course, those who live in the northern hemisphere don't have adequate sun exposure during the cooler months, either. As we get older our ability to produce Vitamin D from sun exposure greatly diminishes. And if you are of darker complexion, you will produce less as well (more melanin in the skin, means less Vitamin D production because melanin is a natural sunscreen).
Treatment:
Most doctors are prescribing 20 minutes of sun exposure per day on skin that does not have sunscreen on it. It has its limitations (see above) ~ and of course if you have/had skin cancer or are at increased risk for skin cancer, this may not be the best option for you.
When someone is already insufficient or deficient, docs are recommending 50,000 iu (that's not a typo ~ it is prescription strength) Vitamin D (once a week) for 6 to 8 weeks. Then being retested. If still insufficient or deficient a second course may be required. Once levels are optimal then the course varies a little. Depending on age the dose can be 400 - 800 iu per day (or more, or less). Recommendations also include getting in 1,200 mg calcium per day with the Vitamin D.
The biggest thing you want to remember, especially if you live up north, is to have your doctor test your levels... BUT have the RIGHT TEST. The test that is recommended is 25(OH)D. The other test has too many false normal levels.
Well, I don't have my physical until next week, so I don't have the prescription Vitamin D yet (the 50,000 IU), so I have been drinking more milk and eating more yogurt (both fortified with Vitamin D) and I have been supplementing with 5,000 iu Vitamin D daily. We'll see if it helps.
CAUTION: Do not megadose on Vitamin D supplements ~ especially because your levels may be fine and Vitamin D can be toxic if you take too much (it is a fat soluble vitamin, so it gets stored in your fat stores). Best bet is to get tested first before you decide a course of action. Of course, you can't go wrong by getting in 3 good dairy servings a day (as long as you aren't lactose intolerant).
This blog is not a substitute for medical advice. It is based on my experience and research. Please do not take it as gospel. Talk with your medical professional and get advice that is specifically for you. This is for informational purposes only and is not meant to substitute proper medical treatment or advice from your doctor, nurse, registered dietitian or other healthcare professional.
:)