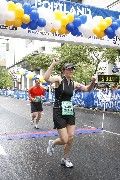 woweeee! I really did it! I'm a marathoner! It was amazing, and inspiring, and funny, and sad, and wet, and joyous, and painful, and sickening, and HARD, and I really DID IT!
The day before the race my brother and I drove down to Portland in the POURING rain. Rain and wind continued the rest of the day, but the weather forecast for marathon day was upper 50's/ low 60's with only a 30% change of showers. What a disappointment when it actually showered and rained the ENTIRE time I was on the course! It never did stop for more than a few minutes. Oh, well. It could have been a lot worse. I wasn't going to let that stop me.
I slept OK the night before the race, but woke up very early with my mind and heart racing. I stayed in bed as long as I could and eventually ate some soda crackers to try to settle my stomach. I drank water while getting dressed. Unfortunately the nerves got the best of my poor tummy. I continued drinking water and was able to eat about half of a powerbar before the race.
My mom, step-dad, brother, best friend and her husband were all at the starting line to see me off, which was incredible!!! I thought I would finish around 5:30 hrs, but wanted to be conservative, so I joined the 6:00 hr finish time group. We started about ten minutes after the first group at 7:10am. There was so much excitement in the air and I had a hard time containing my desire to run like the wind. I had to keep reminding myself I had 5+ hours to go.
They had lots of good entertainment and the first 4 miles was breeze. Unfortunately my tummy was still upset. I ran past several long port-o-potty lines before deciding I would just have to wait at mile 4. I lost about 8-10 minutes there. Following that stop I had a hard time getting a comfortable pace back and fought a side ache for several miles.
Then, HOORAY!, my family and friends were waiting for me at mile 7! My brother ran with me and gave me water at a perfect time. I knew I needed to start eating even though my tummy wasn't happy. The water helped me down most of a package of cliff shot blocks. From there the course went out 2 miles and turned around, so my family didn't have to move far and I got to see them again at mile 11. Having that to look forward to was a huge boost! I'm so thankful they were there for me.
I don't remember much about mile 11-15, but I know it wasn't easy. Around mile 16 I knew the biggest hill of the race was coming up soon. The negative thoughts tried to creep in but I fought them off. Just before the start of the incline I saw two signs someone had placed on the side of the road. The first one said, "Something magical is about to happen!" The second one said, "You OWN this hill!" I got the biggest smile on my face and I don't think it left until somewhere around mile 19-20.
Depending on how I was feeling, I had given myself permission to walk that hill. I guess I even expected that I would. But, guess what? I ran it! I ran it with a smile on my face. It was amazing. About half way up I thought of something my husband had told me the night before the race. He said that when it got hard I should remember that his dad was watching me from heaven and cheering me on. [His father died unexpectedly two weeks ago.] I looked up into the rain, and I felt Eddie cheering me on. I got all teary, but they were happy tears. I knew he would have been immensely proud of me! As I turned onto the last part of the hill I crossed the St Johns bridge and looked out over rainy Portland and loved it. The top of that bridge was definitely the race highlight for me!
The next 2-3 miles felt just as great. I was trying to tell myself to slow down, but having a hard time doing so. I then saw my family again around mile 19-20. My brother gave me more water and walked with me for a bit. I had been choking down cliff shot blocks, but I couldn't do it anymore so I switched to cliff shots. I ate one but it wasn't going down any easier. I left my bro when I saw a port-o-potty without a line and made one more stop there. Tummy still upset, but I kept on running.
The remainder of the race is mostly a blur. I started to lose track of where I was. Had I passed 21 last, or was it 22??? This is also where I faced some disappointment. I passed mile 20 at the 4 hour mark and knew I could potentially finish close to 5 hours, but it turned into the longest 10K of my life. Around mile 22 or 23 I started feeling a bit light headed and dizzy. I REALLY wanted to finish but it was obvious I had to slow down and be careful. I walked a lot of the last 3 miles. I continued to drink water at each water station and started drinking Gluekos provided by the race. (I had avoided it before since I hadn't trained with it.) I could not ingest any more cliff shots! At that point I decided I was marching myself straight to the aid tent when I finished.
When I passed the 26 mile marker I almost cried. I was so incredibly happy to know I only had 2/10 of a mile left! As I was entering the finish shoot they announced my name and I looked to the left and saw my sister with her husband and my 6 mo old niece. I heard her yell, "You did it, Tara!" I was able to pick up the pace and finish in 5:26:24. I think I even remembered to smile and look up at the cameras.
I got my finisher's medal and pin and walked straight to the first person I saw wearing a medic symbol. She walked me to the aid tent where I spent the next 45 minutes. I was still feeling pretty dizzy, but otherwise OK. They made me lay down and drink juice while they checked my vitals. My BP was low (about 110 over 40 something) and pulse thready. While waiting for the sugar to kick in I started to cool off too fast and began shivering, so I had to get out of my wet clothes and get up and walk around. After that I started to recover fairly quickly and the RN released me with strict instructions to continue walking and eating. It was probably dehydration with exaggerated symptoms due to pregnancy.
I left the aid tent and was given a rose and tree seedling. (Portland rocks!) Then I picked up my finisher's shirt and I stopped at the finisher's picture booth. I can't wait to see how bad that one is. :) And, headed out to find my family. They put more clothes on me and walked with me for the next 45 minutes. After that we all went to Thai food, so I could have my traditional post long run meal of tofu pad thai. yummy.
All I could think the rest of the day was I'm SO glad it's over! LOL!
my pictures can be found here:
www.racephotos.net/Runne
rDetails.asp?nRunnerID=649475