Bootcamp Challenge
Saturday, October 04, 2008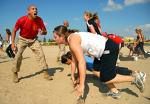 Today was the Bootcamp Challenge at MCRD. Wow, was it an interesting experience. I was super duper excited cause my wonderful SP friend Coffee-mate-y (Shan) was driving down for LA to participate with Angespad and me. We got matching shirts and everything!!!!
Shan got a little bit intimidated by the drill instructors but she got over that quickly and avoided them like the plague!! HAHA!
We started out strong and flew over some hay bail obstacles and set a nice comfortable pace. After around the 1/2-1 mile mark I got this horrendous side ache. It was terrible. The kind you can't seem to run through. I couldn't believe how painful something like that could be. I tried to run through it and slowed down my pace some but it just would not subside. I not only felt bad physically but I felt worse keeping my teammates from moving forward at a quicker pace. I never stopped though. I took advantage of some slower obstacles, tunnels, foxholes, trenches and pushup stations. Ange didn't respond to one of the instructors properly and she got nailed. I felt bad for her but it allowed me to catch my breath and try to get that side ache to go away.
When she reached us, we started jogging and it wasn't too terribly far from the finish (thank God!!) and the girls kept encouraging me. Then one of them said "Let's beat this team" and we picked up the pace and sprinted right before the finish line we linked arms and crossed the finish line in 32:01. I gaged and almost threw up once we hit the end but I managed to contain the contents....now that would have been embarrassing!
I have no doubt that my fabulous teammates could have finished the course much faster but they were wonderful and supportive. Thanks guys! You rock!!
This has motivated me to try and get into even better shape. I can definately improve my fitness and strength. This is just one more reason to push on!