Did You Poop?
Sunday, September 28, 2008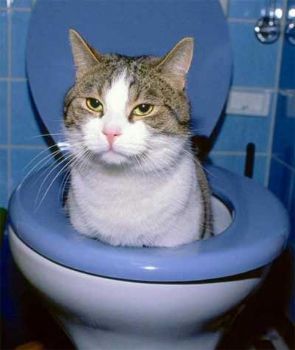 There's a lot to be said for the togetherness shared between man and wife, when they reside jointly in a camper. One can close the bathroom door, but regardless of your efforts, the sounds and smells, resulting from your "other efforts," tend to permeate and escape through the walls and under the door. You can turn on the faucet while squatting and taking care of business; this will sometimes stifle the noise. You can light a match while doing one's daily duty (or is it doodie?); this will sometimes mask the stink.
Recently, I emerged from the bathroom and was questioned by James, "Did you poop?" First of all, let me clear the air (so to speak); my hubby is not consumed with my bathroom habits. It's just that some times, our bodies are in sync and it's a race to the commode; first one there is guaranteed fresh air. The only advantage of going in second--the throne is warmed up. "Nope, I just fluffed," I giggled and replied. "But don't worry, I smell like a petunia!" And this is where hubby smirks, and replies, "Yeah, a dead petunia!"
Many might have found this inquiry somewhat intrusive and perhaps embarrassing, but it led me to do some deep meditation. Two sayings came to mind, when I allowed myself to dwell on the creation process of my stinky floaters/sinkers…
• Get your poop in a scoop.
• Poop or get off the pot.
Since the onset of summer, I've been pulled in a million different directions. I fell out of my previously established, healthy routines: balanced eating, regular exercising, ensuring adequate sleep, drinking water (while cutting coffee consumption), tracking my caloric intake, taking my vitamins, setting aside time for myself, weighing myself, and spending time on Sparks. In a nutshell, my life turned poopie and it reeks! I permitted work to take over my existence and threaten my wellbeing. I allowed work to become a priority and put myself at Number 2 (pun intended, kinda, sorta).
There were times here and there that I had declared I was going to get my poop in a scoop. But lo and behold, life got in the way! There I sat, on the pot, suffering from ghost poop--the kind you feel come out, where you go through the motions (and emotions) of wiping, yet nothing is there when you turn around to flush! I was plagued with dingle-berry poop—the kind where you know you are done, but it hangs on and just won't drop! No wonder I was having problems!! How could I get my poop in a scoop, if it wasn't there?! So summer moved on, with continued excuses and suffering of irregularity and me not accomplishing much movement. (Yep, a definite play on words, there!)
I have wasted the entire summer, squatted on the toilet, acting constipated!! There I've sat, on the commode, ailing from a Lincoln Log jam, a sort of rectal congestion, plugged up, due to bad health choices. Oh sure, I had "successful" moments on the crapper, where I blew off some steam or released some hot air, but I still suffered from "The Strain." The only thing I was flushing down the sewer pipe was all the good habits I had worked so hard to instill within myself.
Well, no more! I'm here to make a Constipation Proclamation!! I am going to poop and get off the pot! I am getting my poop in a scoop! I am taking my life back! No more wasted time, squatting and squeezing, thinking and stinking, obsessing over work and forgetting about myself!! I avow to re-establish the good habits that I know are good for me!
Maybe I'll eat a few prunes, just to be sure and to help speed up the process!
www.youtube.com/watch?v=
aDIAfE-_Ivo
Member Comments About This Blog Post
JANNIEWANNIE
This is so funny! Reminds me of my "Crappy Day" last year that no one I know could top. My sister, the nurse, says it is a sure sign of old age when bowel habits are a major part of your conversations. Welcome to our sisterhood. Hope you there is no "Lincoln Log Jam" in your future. Thank you for brightening my day. Hugs from J


2089 days ago

GOANNA2
I have not been on your page for so long and I'm glad I visited again.
You are such a funny lady and I just love it because I get to laugh and forget my problems.
So amny things are true and yes, I too have a saggy bottom...


2947 days ago

DDUNIGAN
Ah, EddieMae. I haven't been around in quite a while. Had to see how you were doing-first one I checked up on. And you haven't disappointed! Love the blog! I had come to many of the same conclusions.
I eat much better now, and can tell the difference when I don't. Similar issues!

Finally got off the pot this fall. After doing nothing for a year, and actually adding a couple pounds, I've lost 12. Butt's still saggy low, though. LOL!
Got through the holidays (since Thanksgiving) with a 2 pound LOSS! GO ME!!


3178 days ago

GRACE2GRACE
Hilarious...do you write professionally? If you don't you should.
Heather


3195 days ago

RANGERAMPS
That was cute, funny, blog with a great analogy ;-).


3232 days ago

DDDOLL59
That was TOO funny, especially since I can relate. LOL!


3237 days ago

BLUES2ELMO
HILARIOUS--I LOVED IT! OMG THAT'S WHY I GOT RID OF MY CAMPER-I HATED SMELLING POOP ALL THE TIME. THANKS FOR THE LAUGH. GLO


3244 days ago

ZUMBA-ZOMBIE
That's a masterpiece you just squeezed out there!! haha. Great blog. Gave me a good chuckle!


3251 days ago

NANCYMORIN
Wow! What can I say but...I got the message loud and clear. Thanks for "um" sharing?! I laughed at SILAS pun whether she meant to or not..."regular blogs".

I hope that everything COMES OUT better for both of us in the future since we plan to get MOVING REGULARLY. It's a RELIEF in more ways than one to have someone BACK ME UP, I mean PUSH ME, I mean...well, you know what I mean.

Thanks for the laugh and the inspiration.
Nancy


3265 days ago



Comment edited on: 10/13/2008 10:44:43 AM
SILAS32303
VERY GOOD. I NICE BREAK FROM TH REGULAR BLOGS.WHERE DID "BLOG" COME FROM ANY WAY. iT SOUNDS LIKE SOUMETHING YOU JUSTLEFT BEHIND FROM EATING YOUR PRUNES.


3271 days ago

MOMMAASHLEYAL
TOO FUNNY! I laughed so hard I cried and had tears in my eyes! Well written, how true!!

Thanks for the humor!


3272 days ago

~LASYL~
LMAO as usual. Timing is everthing, why did I miss this before..., oh I know, because I was meant to read it today. Well, you made me think for sure. I'm glad you are now back to being regular. No more stinking thinking! Also, I got a question for you. Does that make me and all the gang stool softners? Since we motivate you and cheer you on? Just a thought..., I had to go there because we think like that..., cuz. lol. Good one girl..., Let's get it done!!!!!!

Keep it flowing!!!!

Cuz Syl


3272 days ago

4CAKES
How is it some people are gifted with words and others are gifted with mumble... your so funny!


3272 days ago

APACHE85


This brings whole new meaning to "potty talk"! You are hilarious and I LOVE IT!! Looking forward to the latest "poop scoop"!


3273 days ago

RANAWAY
Great blog!!! Now stop pooping and get back to enjoying life!


3276 days ago

STARTSPARKING
I missed you, and I am so glad you're back. There is always so much wisdom behind your humor!

Congratulations on focusing on yourself again. I am here to cheer you on!


3276 days ago

*FRIZZIEMOM
Your so funny! You never cease to amaze me with your humor!! I miss ya girly!!


3276 days ago

NAN71486
Debbie! Are you talking about me or you? LOL

Love you!Nancy


3276 days ago

MJ1828


ha great blog, im loving it and plan to get all of this up and going right alongside you! good luck and keep me updated :)


3277 days ago

REDSOXLOVER


Boy have I missed you!!!!! I'm so glad you're back. Remember we have plenty of nurses on this team trained to do digital disimpactions if needed.
Fondly,
Patti


3277 days ago

KAREMEG
As usual, you have me laughing! This is a journey, not a destination. We must remember to be kind to ourselves. This is a learning process!

Looking forward to seeing you around SP more AND these side splitting blog entries!

YOU WILL DO THIS!



3277 days ago

SAYRAH-M
And I have definitely missed my LAUGHTER FIX from your blogs!! Well come back!


3277 days ago

CYNTHIAS50
Dang it Deb, ya sure know how to put things eloquently huh! ROFL! I have been really, really constipated too.....so, I too am going to poop and get off the pot!
Thanks for inspiring me yet again :~)
Love ya!


3277 days ago

ANGLE69771
Great to have you, and your humor back on track.


3278 days ago

BLONDEGIRL10
Look out for # 1 or you will step in # 2! Great reminder Deb. Thank you.


3278 days ago

GRANDCRACKER
i laughed so hard.welcome back;love the picture.and i know whats it;s like to live in a camper. did it for a long time.


3278 days ago

LADYLIGHT
LOL Thanks needed that!


3278 days ago

LISASKEMP
Your blog has to be the best piece of literature I've read in quite awhile! So eloquent yet "moving"!

You've inspired me - I'm with you and I'm going to get off the pot! Thank you so much for sharing this bit of yourself with us - I may not be brave enough or write well enough to want to post something like this, but you are definitely speaking my language!

Now we just have to watch out for the sharts and poots!




3279 days ago

HUGS2015
Hey, I drink my coffee, eat my oat meal and that part of my life works like clock work!
The song I thought of was "Taking Care of Business"....everyday...everyway...

Hee-Haw!
We are going to get with the program come tomorrow! I ain't wearing that monkey suit...are you? You better get to scooping and grouping!


3279 days ago

JUDY4FITNESS
Have you tried the herbal tea SMOOTH MOVE? It works- honest!


3279 days ago

HEARTOFCHRIST
OMG you are the BEST! I know exactly what you are talking about! Then it all turns into constirrhea! The kind that has you so plugged up then when it opens your eyeballs turn to water and drop out through your butt!

Constipation proclamation!


3279 days ago

MELLY423
So true, Debbie, so true! I have been "straining" without results, too. Time for me to eat those prunes! So, here we loose again! Thanks, friend!

(¯`v´¯)
`*.¸.*´†~Melly~†
¸.•´¸.•*¨) ¸.•*¨)
(¸.•´ (¸.•´ (¸.•´¸¸.•¨¯`*



3279 days ago

WATERGIRL60


I'm so glad you finally got off the pot-don't know if you realized how much we've missed you! And although I know I've complained about how long you sat there reading, I'm glad to see everything worked out in the end.



3279 days ago

PAMI22


I am fairly new and this is the first blog I have read...thanks so much for the morning laugh love the way you put it and it all made so much since to me I am getting off the pot to so to speak and looking forward to a healthier, slimmer me........cant wait to read your next blog.....


3279 days ago

SHARON146
what a blessing you are,,,,,,,,,,, by the way the prunes in the fancy packaging are yummie .
be awesome
have fun
and no more stinkin thinkin
do over
sharon


3279 days ago

KYLIEMC8
So happy to see you Debbie..even if it is POOP TALK! You go get em girl!!!


3279 days ago

TEXASDY


Debbie -- you are so funny! And right on the money, too!

This summer was stressful for me in other ways -- son's brain surgery and hospital stay for 3 weeks and my husband's deployment to either Iraq or Afghanistan after his training.

I know what you mean about letting all of my healthy eating and exercise practices take a "vacation." But, when my girls started school at the end of August, I reclaimed my "ME TIME". I've been trying to consistently track my food and exercise and workout at the gym 3 -4 times a week. I actually met with my trainer and , oh my goodness, my weight was up from meeting my goal weight in June -- can you believe that ! :-) LOL So, I've changed up my workouts and am trying to get back on track with my eating. I'll weigh in again on Saturday -- I've taken two weeks off from the scale to see a difference -- I hope!

It's good to have you back, lady!

Dawn


3279 days ago

BINEMELLES
ha ha, what a great analogy! glad you decided to get your poop in a scoop! hooray for you!


3279 days ago

UP4MORE


Ha! Oh I loved this Deb!!! Good for you and your poop! LOL!


3279 days ago

MAXFOCUS
What a great sense of humor you have! It is great to read that you are getting back to your good healthy habits.

Max


3279 days ago

TWLITE


I hope you can find a little more regularity in your endeavours! Glad your back.


3279 days ago

MAINLADY
Welcome back, Debbie. Always a delight to read your blogs not to mention many good laughs. Hope to see you more often.

Hugs,
Sharon


3279 days ago

HOLLYCHARRIER
Great blog and I sure hope things become more regular for you-- both in the blog entries and the pooping department. I kicked my fruits and veggies into hyper drive--so no problems in that area personally. I have actually discovered a love for hummus too--- which is healthy, low fat and a great dip for fresh veggies!

I had some health issues of late that have been bothering me and some of the meds are in the steroid family, not to mention emotional eating from Hurricane Gustav!!! So my ticker has climbed up instead of down but I got back on my wagon last week. I didn't count it as a failure-- more like a detour, but at least I am back on track now.

Welcome back!!! Can't wait to hear more from you!


3279 days ago

JUSTMINE
WELCOME BACK!!!!
sure have missed you around here...
hope to talk to you soon, big big hugs
sheri


3279 days ago

WALKMAMA
Good to hear from you again! Check out my page -- my ticker is moving left too, but for a good reason (20 weeks pregnant!). I am off/on with Spark tracking. At some point I want just want all these good habits to stick without the need to track everyday. I need more patience, knowing that one year Spark cannot totally reverse close to 20 years of bad habits.


3279 days ago

GOANNA2

Debbie, it is so good to have you back. I am going through similar stuff and you have given me the motivation to get back on the waggon. You have such a way with words. Love your sense of life humour.
Cheers
Anna


3280 days ago

-ANGIE-


Here I sit,
Broken Hearted....
Tried to Spit...
And only farted!

That poem is dedicated to you, my dear friend! You view the world through a crazy pair of glasses- and it's one of the reasons I just adore you! I can't believe how you tied all this "stuff" to your weight loss journey! You crazy gal! I knew you'd get back! It gets darn hard sometimes...well- it's never really "easy" -but I am so proud of you for hanging in. Sparktown will be a better place now that your lights are on and you're back in business!

Note to James- NEVER go in the potty before your wife...what IS he thinking? It's not physically possible for a woman to do the same level of damage as a man!!!


3280 days ago

METALBABE
Boy, have I missed you, Debbie! I see nothing has changed in the brilliant humor department. So glad you are back!!
-Kristin


3280 days ago

PSCARPA16
Great to see you back!! I have finally stopped yo-yoing lost 21.5 pounds and going strong. joined the Y and have been swimming, doing Zumba, yoga and pilates!!!

have missed you and your blogs and motivation!

get back on track.

Patty


3280 days ago

SHARBABY123
After reading that I feel a sense of urgency coming on! Glad to have you back, EddieMae. You should blog more "regularly". Good luck to you!




3280 days ago

| | | | |
| --- | --- | --- | --- |
| Member Comments Page (55 total): | 1 | 2 | Next > |



Disclaimer: Weight loss results will vary from person to person. No individual result should be seen as a typical result of following the SparkPeople program.