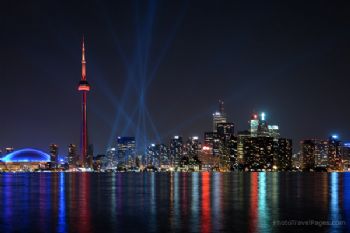 So, you're going to be swimming past the Toronto shoreline? Or just did? Cool! Well, I hope you recognise that skyline, then. It's the waterfront, at night.
The tall tower is, of course, the CN Tower, which used to be the world's tallest free-standing building until this summer, when Burj Dubai overtook it. :) To its left, the blue dome is what used to be called the SkyDome, until Rogers (our major cellphone provider) paid for the advertising rights. The tall, dark building to the right (within the prism of lasers) is the Bank of America building - a total rip-off, as it's only the corporate headquarters here in Canada - I couldn't find an ATM there, and they wouldn't let me do any actual banking (I still have accounts in the US!).
Also spotlit by those lasers are a bunch of residential condos ... and I live in one of them, right at the waterfront. But my windows face north and west, so what I see is this same skyline, but from slightly further north. From the NW-facing windows, I can see the CN tower (and its light show) and the Skydome - just two blocks away from my home.
If you were to come visit, I'd take you for a walk on Queens Quay, along the waterline ... past the cafes, down west to Spadina (just beside the SkyDome), and then down closer to the water, where Toronto has built some beautiful music gardens that stretch about half a mile: cosy, grassy, shady areas, with benches, a beautifully landscaped mini-open-air auditorium, and lots of bushes and flowers and curvy paths for the kiddies to play in.
Breakfast is a cup of coffee (for you - I don't drink that!) and a croissant fresh from the bakery as we sit on one of the benches and look out over the marina, watching the birds (don't bother feeding them unless you want them to poop all over the waterfront!) and breathing in that moist air wafting off the water, taking in the glory of the colours as the sun rises.
If you wanted a run, we'd run west, through a chain of parks at the waterfront, all the way across Etobicoke, then along the lower edge of the city of Mississauga. We _could_ run as far as Oakville, but we'd be mighty tired! Then, we could either run back in the morning sunshine, or probably catch a streetcar going east on King Street. Slowly winding its way past the waterfront, into busier and busier areas, past a poorer section of the city, where you see as many little grocery stores as cheque-cashing places, then watch as the streets get cleaner and quieter as we approach Spadina, where it again changes to grungier.
We'd get off at this point, and head south a little ... to Front Street, where we'd go east a few blocks and then to the base of the CN tower. This half-a-kilometre tall tower has super-fast elevators to take you to the revolving restaurant (yes, it's cliche, but oh, so appropriate!) at the top (that's the lighted, bulgy part!) - there's more tower above, but we aren't allowed up there. Instead of going into the restaurant, though, we walk through the observation area, looking down at the busy, jam-packed, city of Toronto. While not as big as Rome (from the top of St. Peter's cathedral in the Vatican), or Paris from the top of La Tour Eiffel, it's still a gorgeous sight!
And then I dare you to walk on the glass floor. Yes, there's a reinforced glass floor. We stand at the edge and peer down - the cars look tiny, humans are mere dots. You're braver than I, you join the dozens of kids ON the glass. I peer down fearfully, then start walking across it, staying on the solid reinforcing beams that support all that glass. Right in the centre, I step OFF the beam and on to the glass - but only for a few seconds, then I edge back to the non-glass areas! :) Bored now, we head back down the elevator - our ears popping with the speed of the descent.
Walk back west to Spadina, past the SkyDome, which isn't hosting a game right now because it's too early in the day. Later in the evening, there will be baseball or football or basketball, depending on the season. For now, it's just a large white dome. But I've been there and listened to the Dalai Lama speak, just over a year ago. What an awesome man he is!
We'd grab a new streetcar here, at Spadina, one going north on Spadina (just north of that SkyDome, remember?), and cruise past the stores just beginning to open. An eclectic variety. Furniture stores, fur stores, lighting stores. A Calphalon chef's store (which conducts cooking classes). A Winners (a discount-clothing chain, that usually carries really cheap stuff, but since this is downtown Toronto, also has some 800-dollar items, which are cheap in comparison to their original designer labels and prices), one solitary gas station (since this is a city of walkers, we kinda don't really cater to the drivers too much!).
Now we come up to Queen Street, just the very edge of the Fashion District, and you can see the gorgeous gowns in the windows. These are local stores, with local designers. A few of the stores are owned by the Chinese, and there's a different feel to them - the styles are really beautiful, but obviously designed with the more-petite Asian bride in mind, and the bridesmaids gowns are to die for. There are rumours of sweat shops, but I've not investigated.
Up we go, past the Fashion District, and the sidewalks are now busier. Instead of the suited, preppy look of the Bay Street financial whiz kids, we're seeing more families out shopping ... we're almost in ChinaTown.
One of the oldest in North America, it's also one of the most vibrant. Of course, it's got a gazillion Chinese restaurants, but there are also little kitschy stores that will sell you anything from a tiny bead animal representing an icon of the Chinese zodiac to a gorgeous silk outfit (sorry, I don't know what they are called). Once a year, the Dragon festival and parade wind down these streets, but today it's quiet(er). The grocery stores stun you with the variety of produce - there are things you don't see in regular supermarkets - especially the fruit. Durians, lychees and longans, jack-fruit (yum - hadn't had these in 20 years, so I was delighted to find them!), dragon fruit (in the prickly pear family, but a beautiful pink skin with green-tipped scales on the outside!), and many others I can't even name! I sneak into one to pick up my addiction - fiery chili oil!
In summer (and today, too, despite it officially having been the start of fall yesterday), there are street-side sugarcane juice sellers - $3.50 for a glass with ice (too watery) or $4.50 for a glass of pure nectar. Try it. That sugar high will last just long enough to get you into a restaurant to eat a spicy bowl of soup! :)
Back on the streetcar, we'd head further north on Spadina, past College. This is our little techie-haven. There are several no-name-computer stores, where you can buy the no-name computers, but also slightly cheaper hardware (printers, cameras, you-name-it). I still miss Fry's Electronics, though - in Silicon Valley, THAT was geek-heaven. (Yes, I'm a geek!)
Still further north, the sidewalks are now much quieter - College was also the western edge of the University of Toronto, and we are now into university territory. The street suddenly curves off to the right, past some gorgeous old buildings and a church that's about 300 years old. Or is it older? I don't know - but it's a tall, imposing church. Lots and lots of greenery here, which is a sight for sore eyes after all the harsh brick and concrete we're surrounded by. You can sit in the grass and feed peanuts to the bushy-tailed squirrels ... some of them are tame enough to come right up to visitors. You notice they're all FAT - presumably the idiot visitors have been feeding them all season. One wonders what would happen to the squirrels if the tourists stopped visiting Toronto. I don't think the students or government employees would feed 'em quite so generously.
And further north ... but the streetcar suddenly dives underground. And you realise you're at Bloor street ... the busiest, upscale part of downtown Toronto. Well, Bloor at Spadina isn't quite upscale, but upscale is just 5 blocks to the east. :) And this, at Bloor and Spadina, is where the streetcar ends - in the subway station.
Phew. It's been a long, slow day, so you get on the subway for a quick ride home to freshen up and change and dress for the evening. Of course, you've got to go clubbing, right? This _is_ downtown Toronto. You'll come back outdoors to that beautiful lit-up night sky. But all you'll see is the lights of the two condo buildings closest to you as you walk ... you're too deep within the forest to really see the trees.
There are dozens of nightclubs. Unfortunately, I don't go clubbing, so we'll let someone else be your guide. Don't forget to go salsa dancing - there are several clubs dedicated to the latin rhythms! Top off your evening with a stop at Just Desserts for a piece of luscious cheesecake (yes, one piece is enough for a whole table of Sparkers!) or one last dirty martini. Remember the subway stops at 1 a.m., so you'd be better off acting like Cinderella and heading out to the pumpkin by around midnight. Watch the skyline - you'll see the nightly light-show at the CN Tower (which I only occasionally remember to look for from my window!)
And you stumble into bed, tired, happy, and blissfully relaxed. To sleep. To dream dreams as tall as the CN tower. And then wake up refreshed, ready to continue that swim you were on ... :)
Cheers,
Maya