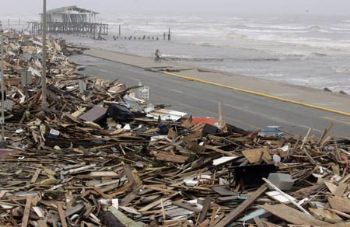 My parents, brother and his family, and hubby's brother and his wife all live in the wider Houston area. Just last winter hubby, daughter and I went to Galveston and stayed in the Hotel Galvez, right on the seawall. I lived in Seabrook, Clear Lake and LaPorte for many many years and so seeing the pics on the news makes me cry. It feels really personal, this storm.
We have heard from everyone, and everyone is all right. My brother and sister in law have yet to see their house, they were closest to the water in Friendswood. My parents, in Livingston, had a tree go through the roof of their screened-in porch. My brother and family, in Bryan, came through with no damage to speak of. However, no one has power. At my parents' house, it's been estimated they'll be without power for six weeks, because they live in a rural area, and there are so many more densely populated areas that need to get hooked up first.
So, my parents are coming here. I was trying to get them to do it before the storm, but it didn't work out. However, they're emptying out the refrigerator and freezer, putting tarps over the hole in the roof, and booking on out of there. I expect them in the next day or two.
Because my mom uses a wheelchair, we're having to do some shuffling around...the room that is the guest room won't really accommodate her chair, the turn into the room is too tight. So, my daughter is having to move out of her room for an undetermined amount of time and live in the guest room. She's not thrilled, but like the sweetie she is, she's bearing up well, except for the meltdown last night which had to do with moving here, moving out of her room, missing her friends, just the whole ball of wax. I feel so badly for her right now.
At the same time, I'm excited about seeing my parents, and introducing them to Springfield. They've mentioned moving here and I really hope they do like it here as much as I do and decide to move here, it'd be nice to have them so close by and be able to take care of them if/when they need it. My brother and his family are sorta close by to them now, but they have three kids at home and very busy lives. I'm down to one kid, no job outside the home, and am just a lot more available to help with whatever is needed.
Okay, so to get ready... I need to wash the MOUNTAIN of laundry that came out of my daughter's room...yikes! And all the rest of the laundry and towels. I need to finish putting together the bookshelf I bought yesterday and unload some boxes of books onto/into it. If needed, I will go get another bookshelf and put it together too.
When my daughter comes home, I'll help her with her room, to get her ready to switch into the guestroom.
Looks like I have my work cut out for me.


Luna