SUGAR FREE REFRIGERATOR PICKLES
Saturday, August 23, 2008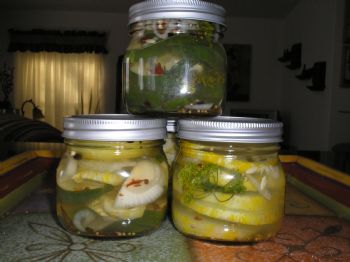 SUGAR FREE REFRIGERATOR BREAD AND BUTTER PICKLES
6 CUCUMBERS ( USE LEMON AND REGULAR)
2 CUPS WHITE VINEGAR
1 CUP SPLENDA
2 TABLESPOONS PICKLING SPICE
1/3 CUP PICKLING SALT
ENOUGH COLD WATER TO COVER SLICED CUCUMBERS
WASH AND SLICE CUCUMBERS, PLACE IN LARGE BOWL ADD SALT AND WATER MIXTURE, LET SET AT ROOM TEMPERATURE FOR TWO HOURS.
RINSE WELL WITH RUNNING WATER.
MIX THE VINEGAR AND SPLENDA IN A SAUCE PAN AND ADD PICKLING SPICES, BRING TO BOIL AND LET BOIL FOR ONE MINUTE. POUR OVER RINSED CUCUMBERS. SET IN REFRIGERATOR OVER NIGHT, THE FOLLOWING DAY PLACE IN JARS AND COVER WITH THE PICKLING JUICE PLACE IN REFRIGERATOR , THESE WILL LAST A MONTH REFRIGERATED.
Nutritional Info
Servings Per Recipe: 14
Amount Per Serving
Calories: 26.0
Total Fat: 0.2 g
Cholesterol: 0.0 mg
Sodium: 126.9 mg
Total Carbs: 6.7 g
Dietary Fiber: 0.9 g
Protein: 0.7 g