FYI! Alpo Canned 'Classic Chunky' Dog Food-
Thursday, August 21, 2008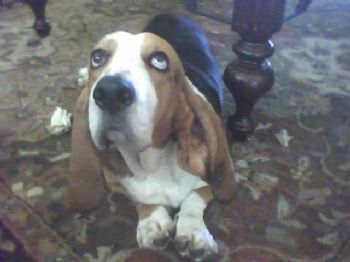 Couldn't resist showing of my Older Bassett- Blue (yep, that eye is half Blue, half Brown!) With a face like that? Who wouldn't be worried after what we found in his & the Hounds dinner last night??
OK- last nights doggy dinner revealed a 'half moon' shaped piece of BLUE plastic or silicone in the canned dog food!
Notified Alpo- representative seemed very unconcerned! Did advise me that 'foreign objects' were NOT something Alpo endorsed in their products- & that they will gladly submit a Coupon for the case replacement & a pre-paid envelope in which I can send the object to them for analysis!
Makes me worry about all the grass eating & diahrrea Bandit & others have experienced! It started with the change to Alpo from Pedigree! And did warn the representative of their health since using this case of food- she didn't even flinch & even stated that the food should still be safe- minus the Blue Stuff I found!
So take Caution- break the food up in their bowls looking carefully-before serving it! If you do chose to use it- I'll keep everyone informed of what Alpo finds, ASAP!