Summer's almost Over- time to plan ahead!
Sunday, August 17, 2008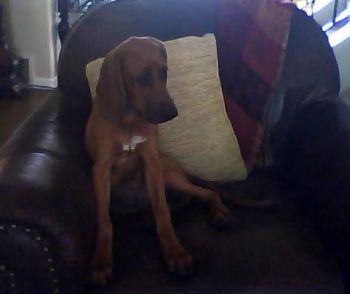 My how time flies when you get older!! Here's Ready- oh, yeah gonna be a Big Boy! He's now 5 month's old. And as you can see is learning 'jumping' very well thank you. Now to teach him to use it for 'good' & NOT 'evil' puppy deeds!
The Hounds were mildly disappointed about their missed AM run-but the Seasons- they are a Changing! the Back Yard actually has some shade now, & the 'awesome paw-somes' spent the day up on our glorified hill surveying their domain & being goofy & lazy- I found Ready in the empty 35 lb. bag of Dog Chow I'd left in the Garage- what a missed Kodak moment! Ready goes in to the Vet this Thursday to sacrifice his man-hood for the Common Good & my possible Sanity! *LOL Our neighboring dog issues are still at hand & show little or no sign of an end. We desperately need a fenced yard- but the cost is tremendous, given its only 250 sq.ft.!! By Winter time though & the 1st Heating Bill, Hubby may decide it would be better to finance the Fence than the Utility Company! 3 Dogs make a lot of trips for multiple reasons, leading to multiple heat lost!
The neighborhood is changing also, its a predominately Military family situation & their 4 yrs. are up & time to move on- lots of new faces & paws! Schools already started & the days are now quiet & long, though the day light is already fading faster & faster. So early rising & work outs will soon be necessary for both the AM & PM runs- We have 4 tremendously large Geese flocks that come over just before the Sun hits the horizon, on a quiet day you can hear the wind beneath their wings- At times like that I wish I still painted or had a good camera! And you can't help but realize, that God is Good.
I've reached my goal weight as most of you already know- though I'm up 2 lbs, according to tape measure? it's all muscle & aches! I truly have to find moderation in meals vs. exercise. I must also face that I can be the best I can be, but I'm no Spring Chick! In addition to all my health issues, I cannot afford to cause further damage to this old body. I had to resort to my old Fibromyagia pain meds last night to finally get the righ hip & knee to let me rest & today it is no longer painful! So I'm really taking a Rest Day- or as much as I can given my personal nature- which feels that I should not sit! I must be occupied or moving at all times! Go figure- & now that I've made Fit Tv a daily habit, I can't seem NOT to join in on most of the shows! Maybe one of the dogs will hide the remote? Till next time, take care & be faithful to yourself!