Friday, August 08, 2008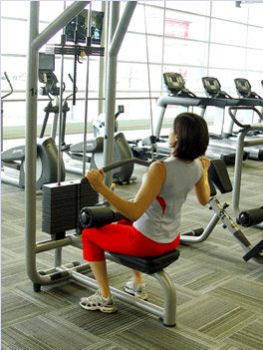 Your body is pretty smart, you know? It tells you when you're hungry, when something hurts, and when it needs sleep. But it also points out your muscular imbalances. Everyone has them, even the most fit people—weak areas, tight muscles, and poor range of motion during certain movements. In fact, when you exercise (or even just when you move), your body gives you cues to what's going on.
Here's an example of an all-too-common problem: poor posture.
If slouching or rounded shoulders are a problem for you, then
listen to
watch
what your body is saying. It's actually showing you exactly what your problems are. When your shoulders round forward, they are "pointing" to where your muscles are tight—that means your chest. Forward-rounding shoulders are also "going away" from where your body is weak: your upper back and posterior deltoids (back of the shoulder). Knowing this, you can then fix the problem by doing chest stretches more regularly (a simple one is to lace your fingers behind your back), and by focusing more on upper back strength training (such as rowing exercises, reverse flys, lat pulldowns and more).
You can apply this information to all types of movements.
Your body and joints point toward tightness and away from weakness.
It makes sense, right? Tight muscles will pull body parts towards them. And weak muscles are too weak to keep a joint or body part in proper position.
Notice what your body is "pointing" out when you walk, run, cycle and strength train. Then you won't need a trainer to fix the problem—you can do it yourself!