When it Rains-it Pours!!
Friday, August 08, 2008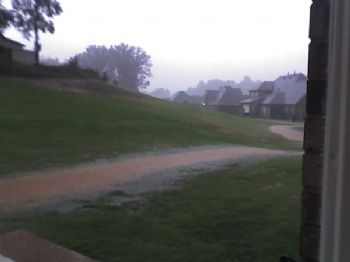 Well, we finally got the rain we so badly needed! Of course it came in the form of 2 Flash Floods! And yes that's a picture of mine & the neighborhoods backyards! Which was NOT what we needed! And of course it doesn't look like its going to help our Heat Wave situation at all- Oh, well the Lord provided enough for our needs for now.
We did manage to get our 10 mi. in for the Hound Troops & some un-invited neighborhood Pals! Really got my Circuit Training in today! I'm starting to seriously consider the Dog Walking as a possible income maker? That along with checking on yards & homes included- seems there aren't enough dogs getting out & around & their getting like a lot of their owners- a little heavier than they should be! *LOL Not to mention there aren't any really good reliable Boarding facilities close by. With the heat too a lot of families would welcome a check on their out door pets. Really something to consider- & if my health improves (having further issues lately:( It would definitely keep me fit!
The Strength Training & Circuits are going well- finding muscles & aches that I didn't know I had*LOL But I've also had to increase my calories & need to really work on timing of my sessions- I think I'm over-doing without the recouperation needed. Like everything all in Moderation & learning as I go-