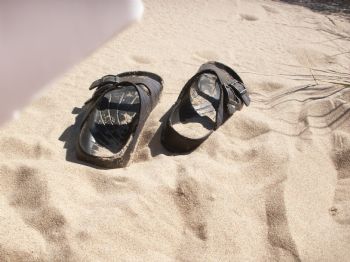 I'm walking my a$$ off. REALLY! I am!
Today I walked to the beach and back. That might not sound like much unless you know that the trail to the beach and back is 5.5 miles AND it is a trail that goes up and down sand dunes AND I'm carrying a back-pack chair with a towel, a can of bug repellent, 52 oz. of liquid refreshments, a lunch bag with a cooler pack, an apple, half a peanut butter and jelly sandwhich and a cheese stick, a fanny pack with an MP# player, sun glasses, a camera, and a book. It's heavy. I haven't weighed it, but I'm sure it weighs over 10 pounds.
I do this walk 3-4 times a week, sometimes more. It takes an hour to hike to the beach and an hour to hike out. It's hard. Even though I've done it many times, it's still hard. Some of the hills are REALLY steep. If I look up, sometimes I think, "no way, I can't do it", but I do. I just keep walking. I put one foot in front of the other and I keep walking.
Why?
This morning I was in a store and as I checked out the woman said, "did you used to be (my maiden name)?" When I said yes, she said, "You look fantastic!"
Later in the day, I ran into a friend of mine and she said "you are looking terrific. You must feel great too!"
Why do I hike 5.5 miles when I could go to the beach and park a few steps from it?
So I can work my a$$ off.


You should try it!