Motivation to me is.....
Monday, August 04, 2008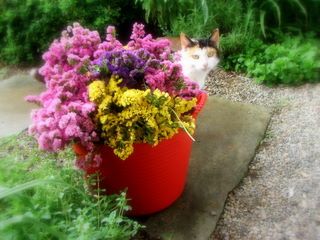 The photo above was taken just a few minutes ago. I have been a BUSY BUSY BUSY Bee in my dried flower garden harvesting the pretty flowers to be hung and saved for a raining day. I wanted to share with you the beauty of the flowers and my dear little Betty Calico kitty who was my little helper today! :-)
****************************
*
Today I got the email saying I was ELECTED as as MOTIVATOR on SPARKPEOPLE. THANK YOU....... It really means the world to me right now that you all would have PUSHED THAT button casting a vote for me! I LOVE YOU ALL.... really! I just got a vision of me standing in front of a microphone wearing a red Channel Design at the Grammys! LOL HOW FUN! THANK YOU FOR MOTIVATING ME.
Many things going through my head this weekend about what I can do to continue to stay on the right track to being healthy and fit. Feeling frustration and over whelmed because I had lost sight of what I was wanting to achieve. Today I spent time Meditating and doing some soul searching about what I am THANKFUL for. Thinking of all the wonderful comments my friends here at Sparks have shared with me during this time of NOT wanting to fall back into old habits.
My Motivation is the DESIRE to be HEALTHY and get FIT for the rest of my life.
What MOTIVATES ME - MY family and my love of LIFE.
WHY be MOTIVATED - to continue to challenge oneself and OTHERS. What fun is life if you don't have a challenge or desire something that is good for you?
*************************
ANOTHER CHAPTER for my SPARK BLOG:
Today I realized I KNOW what I want - I need to focus on HOW I am gonna get there! (thanks JeninRussia) I will share that with you later.... OFF to do my new goal of WALKING 60 minutes a day ( thanks Gina87)
AND Sandy - you are right.... what good would come of the Veggies&Blooms Team leader giving up?! I never thought of giving up ONCE..... NOT ON MY TIME! ((HUGS))