I've Reached My Weight Goal!! & passed it!
Friday, August 01, 2008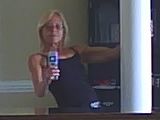 Well, providing the new thyroid med's adjustments don't do me in- as of today its official I've reached my weight goal & surpased it! 110 lbs!
Neck-12
Chest-31 :( seem to always lose that*lol
Waist-25.5
Hips-33
Thighs-18
Calves-14
BiCeps-10
ForeArms-9
I'll probably never have that 24" waist! Due to all the lose skin:( Anyone wanting to donate a tummy tuck? *lol
I seem to have had to boost my Circuit & Weight Trainin- much like I had prior to joining Sparks. It just took Sparks for me to track & get the Support I needed after my Surgery to really commit & have the confidence to do it all over again! Thanks to all my Teams & Friends here- I hope to be an inspiration & support for all the others needing it here & keep faithfully in contact with all my logs here & Teams. I'm actually considering joining The Leukemia & Lymphoma Society for their annual Team in Training this year!1-800-482-TEAM for anyone else interested? www.teamintraining.org/
I had initially considered doing the cycle division back in 1997 before I became so ill- so the dream never happened. Maybe this is my chance?
www.teamintraining.org/