A new month
Friday, August 01, 2008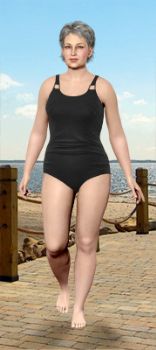 Well, part of doing the MiniBlog challenge is to blog weekly so here goes.
In reading Blogs of other Goonies I am inspired, gladdened and sometimes saddened. I am so happy to read about others losing weight and gaining self-confidence. I am saddened when I read about the struggles with weight since I have struggled all my life.
I am having a good day in spite of a headache that got me out of bed after only 6 hours sleep. Darn, have to start that streak all over again. **yes, the headache is gone now**
Spark People in general and The Goonies in particular has helped me in ways I can't really explain. Since I let go and started using the SP tools my life has just gotten so much easier.
I found the Goonies when I saw a comment by Chuckster63 on another members SparkPage and checked him out. Well, I joined the Goonies immediately, and have been just so overwhelmed with joy that I thanked the other member only to learn she wasn't a member. Long story short, she is now!
My DH sees the difference in me since joining SP & the Goonies and I thank y'all for that. My chosen image is for my next goal weight of 165.
Love,
Linda